I am not throwing away my shot!
Nuh uh. In no way am I going to throw away this amazing shot of TALKING ABOUT HAMILTON ON MY BLOG. (I really do need to incorporate more references, though.)
You can find the original post on Grace's blog here. (Those are two separate links, by the way.)

The Ten Duel Commandments
---
How did you discover Hamilton?
Hmm, let me think. Okay, it was way back in the 2016 (?) Grammys when they were showing Alexander Hamilton on Broadway. My mom had originally called me down to see a part of On Your Feet! which I would see on Broadway that summer. That was when I first got interested.
In the bathroom of a hotel in New York, on the Pandora station of School of Rock (Original Broadway Cast Recording), which was another Broadway play I had gotten to see, the song Alexander Hamilton played. I remember thinking, Oh, I remember this! It was also coincidental, because some of my dance team members (whom I'd gone to New York with)had gotten to see Hamilton, and I hadn't known much about it.
Now, months later when school starts, my friend brings the Hamilton book to school and says, "[name of friend] told me that you liked Hamilton." By that point, I had listened to A FEW songs, so I nodded. She showed me the book. That afternoon I went home and started listening to the whole recording, and then BOOM, my love for Hamilton was born.
(Wow, that was super long.)
Who is your favorite character?
At first, it was Angelica, then it was Angelica or Lafayette, and now it's Lafayette. LIKE OMG I LOVE HIM SO MUCH.
(Also, he raps insanely fast WITH A FRENCH ACCENT, WHILE RUNNING AROUND AND JUMPING OFF THINGS LIKE THE CRAZY MANIAC HE IS???)
What's your absolute favorite song?
*gasps* No. You did not just ask me that.
*sighs* I'm going to give you a list of my favorite songs, because 1) we have to compromise, 2) I would honestly just say "All of the songs", and 3) LIIIIIIIIISTS.
(I'm just naming this in random order, by the way. 😛 )
Guns and Ships (HELLO, LAFAYETTE CRAZY RAPPING)
Satisfied
Alexander Hamilton
My Shot
Aaron Burr, Sir
Non-Stop
Burn
Who Lives, Who Dies, Who Tells Your Story
Wait For It
Yorktown (The World Turned Upside Down)
Take A Break
The Schuyler Sisters
It's Quite Uptown
(and I rarely hear anyone mention this one but) Your Obedient Servant
AND MANY MORE ON CHANNEL FOUR
THERE. ARE YOU SATISFIED NOW???
(Hahahahahahahahaha. 😛 It actually just popped into my mind before I realized how punny it was.)
Music-wise, which is better, Act I or Act II?
Both Acts are really great, but I think Act I has more of my favorite songs. So… Act I. (I LOVE YOU ACT II PLEASE DON'T KILL MEEEEEEEE)
What's your dream role?
I would probably want to be ensemble, for Grace's very reasonable reasoning, but perhaps also Eliza. Though honestly, any of the Schuyler sisters would be awesome, because:
What's your favorite quote?
I believe this question should be "What are your favorite quotes?". SINCE YOU ASKED:
"I'm a trust fund, baby you can trust me." (Yes yes YESYESYES)
"I'm past patiently waiting, I'm passionately smashin' every expectation every action's an act of creation."
"How lucky we are to be alive right now."
"Work!"
"Why do you write like you're running out of time?"
"Dying is easy, young man, living is harder."
"Hamilton wrote the other FIFTY-ONE!"
"I will send a fully armed battalion to remind you of my love. DA DA DAT DAAAAA DA DA DA DA DA YA DA DA DA DAT DA DA YAAA DA."
"I am not throwin' away my shot."
"You can write rhymes but you can't write mine!"
"Rise up."
And like a billion remember that are escaping me at the moment???
Describe what Hamilton means to you using only 3 words.
Well, I could go one way, or I could go the other way…
Let's go this way!
Why. I. Live.
Who do you consider your "Hamilton Buddy"? (someone you can ramble, fangirl, or sing Hamilton with)
Well, I have my friend A (who brought her Hamilton book to school AND ALSO GOT TO SEE HAMILTON ON BROADWAY ASDFGHJKL) whom I can sing Hamilton with. We also wrote lyrics on a tissue back and forth one day in class. 😛 I also have my friend I, who was the one who told A about me liking Hamilton. She actually gave me the Hamilton book for my birthday (IT'S SO AWESOME!!!), and at first, she was like, "No, no Hamilton. Stop it." Then one day she texted a Hamilton reference in a group chat and I was like "OH MY GOSH [name] YOU SAID SOMETHING FROM HAMILTON" and she texted back "What? No. I mean, that is totally ridiculous. And it's totally not the only thing I listen to on Spotify anymore. And I totally don't have the CD right now." Then she sent me a picture of the CD and I laughed.
So yup. Those guys. Plus Sarah and Grace in the blogosphere. 😉
(OH WAIT! Don't forget all the people on YWP NaNo who are Hamilfans like me! Especially my NaNoFam Astro and Abi!!!)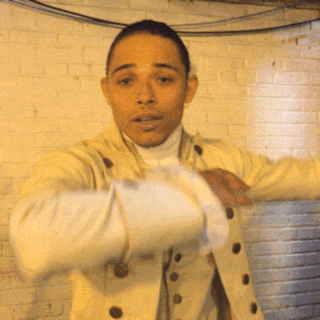 How has Hamilton impacted your life?
For one, I have gotten my mom irritated with me for listening to it so much (she's not a big fan of it), but I also got my sister to sing along to some songs I sang around the house. Before, I was kind of into theatre and musicals and all that stuff, but now I'm proud to say that I'm definitely more into those things (though still not as well-versed as I'd like to be. 😛 )
Overall, it's just awesome, addicting, and it leaves me helpless each time I listen to it. *wink wink*
What is the best thing about Hamilton?
The music. The characters. The lyrics. The story.
Honestly, can I just say Lin-Manuel Miranda? I mean, without him, there'd be no Hamilton.
THE BEST THING ABOUT HAMILTON IS THE REFERENCES.
😛 Just kidding. Obviously the best thing about Hamilton is HAMILTON HIMSELF.
Again, kidding on that. WHY DON'T I ACTUALLY SAY WHAT I'VE BEEN MEANING TO SAY SINCE I READ THIS QUESTION???
The best thing about Hamilton is HAMILTON.
(Just like how lists are LISTS.)
---
My legacy passes to all blogging Hamilfans who haven't done the HamilTag yet, because I totally know lots of Hamilfan bloggers. Totally.
---
Have you heard of Hamilton? Do you listen to it? What do you think of it? Do you think I'm absolutely crazy? (Because I am.) HAVE I INSPIRED YOU TO GO LISTEN TO HAMILTON??? Chat with me, dear mangoes! Come on, I'm WAITING FOR IT. (HAHAHAHAHA.)