Today is the day we celebrate LOVE. ❤
Of course, we should celebrate love and be loving every day, but this is a special day in which we show our love more openly.
Fortunately for me, I love no one.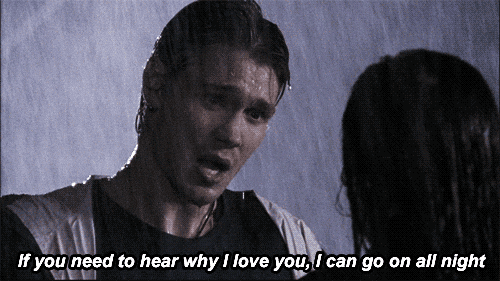 Alrighty! Here's what this post will hold for you today so you can be mean and skip through everything and read only the parts that are interesting:
poem
a quick discussion on love (in the world and in books)
give some love to these:
a Happy Birthday to Amelieeeee
dance updates
---
When Love is No More
(Note: My poetry is usually more negative and/or darker than this, but with the events going on in the US right now, I just had to write this, my old "passionate" and "meaningful" style of poetry. And also: some, but not a lot of, controversial topics.)
When love is no more,
the world will end,
because there will be a mother unable to take care of her child,
starving in a camp because
no one will reach out a hand
and give them a place to call home.
When love is no more,
the world will end,
because a girl will not be allowed to go to school,
while a boy walks past
with a backpack over his shoulder
carrying knowledge that she will
never have.
When love is no more,
the world will end,
because Earth will be raging in a constant battle,
the people versus the people versus the people
in a never-ending war
where hate will win
and love will
lose.
But when is "when"?
What is "love"?
Are we already too late,
too slow,
"no more"?
Now is "when".
"Love" is gone.
We've gone past "no more"
and into "never ever".
We can change that, though.
We can make "when" tomorrow,
and the day after that.
We can bring back "love",
and spread it through the world.
It won't ever be "no more",
if we choose to stand up
and love
today.
(That positive ending killed me. Can't I just end everything with darkness and murder and misery??? I'm so tempted to change it right now, but NO. TODAY IS [supposed to be] A HAPPY DAY. I MUST BE HAPPY. EVEN FOR JUST A SECOND.)
---
A Quick Discussion on Love
(Note: some more controversy because I'm very passionate.)
Today, you won't see many big acts of love. There are small acts, sure, such as a mother tucking her child in bed, or giving money to the homeless. But right now? You really can't see much. Many events such as the refugee crisis and war show us how much hate our world can hold. I am quite passionate on the topic of immigration, my family having immigrated to America more than a decade ago. Not allowing immigrants to enter the US because of their religion is astoundingly cruel of the US, and that is not at all showing love. Neither is shutting out refugees, seeking a home. I understand that these refugees and immigrants have a chance of threatening national security, but people have been immigrating to America for years. We can't let the acts of one religious group stop that.
Love is not tangible. It is an abstract, strange thing, in so many different forms and shapes that we cannot even begin to fathom what it is. What it isn't, however, is showing hatred towards others, not treating everyone fairly regardless of their race, gender, religion, or sexuality, refusing to lend a hand to those in need. I ask of you, this Valentine's Day, to just show one act of love, however small or large it may be. It may be just thinking and hoping for the best for those in suffering, or doing service in your community. We are too divided right now to come together and be loving again, but I hope that we aren't weak enough to be hateful to others around us.
❤
---
Give Some Love to These…
BOOKS!
Percy Jackson & all the other books by Rick Riordan

Rick Riordan is amazing and so hilarious and creative and gah.

Harry Potter by JK Rowling
the Legend trilogy and the Young Elites trilogy by Marie Lu

One word: HEARTBREAK. (But definitely read it.)

the Six of Crows duology by Leigh Bardugo

Can I just say ❤ ❤ ❤ LIKE OMG.

the Lunar Chronicles by Marissa Meyer

Still fangirling over it… BUT LOOK AT ALL THE CUTE SHIIIIIIIPS.

the Raven Cycle by Maggie Stiefvater

BLUE GANSEY RONAN ADAM NOAAAAAAAAAAH.

the Keeper of the Lost Cities series by Shannon Messenger

#TeamSophitz all the way.

the Mother-Daughter Book Club series by Heather Vogel Frederick

Now, this isn't my usual reading style, but I really enjoyed it.

the Selection series (but not The Heir and The Crown) by Kiera Cass

The series was great, but the story should've ended with America.
(Now for some of my other favorites.)
the Graceling trilogy by Kristin Cashore

Graceling was the best, but all of them were pretty good!

When by Victoria Laurie

The second time I read it, it obviously wasn't as awesome. But ❤

And a million others that I've conveniently forgotten.
BLOGS!
(Because I'm nice and I like my friends and I will #promote you.)
The first three blogs are by some of my closest friends in real life; they (and I) would very much appreciate it if you checked it out/commented/followed! 😉
(These blogs belong to bloggers who comment often on my blog ❤ or have blogs that I like. 🙂 )
---
Happyyyyyyy Birthdaaaaaaaay
Technically, today isn't her birthday, but I'm not posting on Thursday, so I'll say it today:
HAPPY BIRTHDAY, AMELIE!!!
She started her blog quite recently, called That's All There Is, and it would be a very sweet birthday present if you went over there to check it out. 😉 Love you, girlie! Hope your thirteenth year is as sweet as you are!
---
Dance Updates
So, I'm part of an advanced dance team that we call "company". We've been working on pieces all year to perform at our company showcase. Tomorrow, I have dress rehearsals from 4:30 to 9, so no posts. And then on Thursday, I have my actual show (!!!). Because of this, I'll be posting on Saturday AND Sunday, because I know you can't miss my amazing posts. Don't worry, mangoes, I'll still be reading your posts and commenting on them, because I'm #awesome that way. But just so you're aware of why I'm not posting tomorrow as I usually do.
---
Did you have a good Valentine's Day? What do you think of poems with happy endings! (Blech.) Will you check out those books and/or blogs? Are you going to give Amelie a fantastic birthday gift by visiting her blog? WILL YOU MISS ME??? (You better.) Chat with me, I'm lonely!
P. S. Guysssss… I was in such a horrible rush to publish this post, I totally forgot about a graphic and gifs! I know. I'm so disappointing. *cries*