It's common knowledge that I LOVE when people buy things for me.
And by common knowledge, I obviously mean that it 1) has been said at least once (right now), 2) was declared by May, the Mango Queen, and Her Mangoness (definitely not all of my titles), and 3) has been known for at least three seconds (unless you're a fast reader; then it becomes one).
BUT HUSH, even though it's NOT really common knowledge, even though it meets all the requirements, don't YOU love it when people buy you things???
Someone gave you something that you looooove and you DIDN'T HAVE TO SPEND A SINGLE. CENT. #yespls
(Unless of course you hate it and would give it to your third niece in disguise as a cookie.)
OBVIOUSLY I'm here to talk about things that I love. OBVIOUSLY you will buy these things and gift them to me. And OBVIOUSLY I will love you forever (and everly) and give you an endless supply of mangoes in hugs to show my gratitude.
Aka me giving you something in return without spending money. #cheap
But first, GIMME.
1. books
DUH. What else would be first on this list??? Mangoes??? Haha, and I'm queen of the world.* SILLY YOU.
But dude. Buy me books and I really WILL love you forever. Like I barely have any books because #cheap??? So books for free is just amazing???
Of course they need to be good books. Books I want to read and haven't already read. Preferably fantasy or contemporary. I have a list of requirements if you need.
(SPEAKING OF BOOKS, guess who got seven amazing books from the library today??? And they're ALL ON MY TBR which is obviously great for keeping myself alive. I'm so excitedddddd.)
*Well, I AM May the Mango Queen™ so I basically am queen of the world.
2. mangoes
Mangoes is SECOND on this list. Because duh. Books first.
BUT MANGOES ARE GREAT TOO.
You can buy me fresh mangoes or dried mangoes, or a mango smoothie or a mango pie (I'm sure they're real). Except the fresh mangoes have to be from Costco, or some place exotic. Like THAILAND. Thai mangoes are the best.
And if you get dried mangoes, they have to be this brand:
I WILL TAKE NO OTHER DRIED MANGOES.
3. hamilton merchandise
ANYTHING. GIVE ME ANYTHING HAMILTON-RELATED AND I WILL BE SATISFIED.
I have the Broadway playbill (from my friend who ACTUALLY GOT TO SEE THE SHOW ASFDGH), and I also have the Hamilton book. But I'd love to get a t-shirt, or the actual CD soundtrack. OR TICKETS TO SEE THE ACTUAL SHOW. AND FREE AIRFARE. AND ORIGINAL CAST.
Scratch that. I will never be satisfied.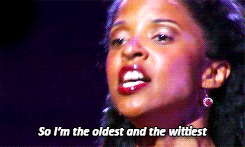 4. high-knee socks
MY LOVE.
My favorite brand is Kirkland Signature Women's Hiking Trail Socks made with Merino Wool, yet again from Costco. They're knee high, and SO SO COMFY. I wear them on hot days, guys. In Texas. Where it's hot pretty much every day. I LOVE THEM.
5. pentel twist-click mechanical pencil AND hi-polymer eraser (also from pentel)
Obviously I like the brand Pentel.
And guys, before anyone tells you otherwise, I STARTED THE TREND OF PENTEL TWIST-CLICK MECHANICAL PENCILS AT MY SCHOOL. I had mine in fifth grade, and then my friend got one. Then OTHER people and soon FIVE BILLION PEOPLE* had it. I know. #trendsetter
Pentel Twist-Click pencils are my LIFE. I have… two black ones, two pink ones, two purple ones, a green one, and a blue one. I USED TO HAVE THREE BLACK ONES and then I lost it (aka someone STOLE it). That was the worst day of my life. 😥
(I only use like two of them actively whoops. Gotta save them, yo.)
And you know why you must buy both the pencil and eraser for me? Because I NEVER use the eraser provided on the tip of the pencil. NEVER. If you use it, I will screeeeeeam at you because no no NO do NOT ruin my precious BABY.
And the Hi-Polymer eraser is a great eraser too. Don't get some cheap brand. :)))
*5/7 of the world's population goes to my school. True fact.
6. scrivener
OMG I WANT SCRIVENER SOOOOO BAAAAAAD. I've heard it's the ultimate writer's tool (especially for organization!!!), and I just NEED.
I mean. Corkboards. Notecards. Folder thingies. Plus outlining tools and other smol stuff. PLS PLS PLS I WANT THIS SO BAD.
(BTW I'm planning on getting Scrivener before NaNo this year. Or I might get it with the NaNo discount. IDK. Help.)
(Or you could be a great person and give me 40 bucks. So I can get it NOW.)
7. a samsung phone
Dude. I HATE my current phone. I mean, I can't imagine having a new phone because I'm used to this horrible one, but 1) it's running out of storage space and I've only downloaded a few apps??? 2) the terrible camera is t e r r i b l e, and 3) the keyboard doesn't work and it RANDOMLY POWERS OFF. AFTER BEING CHARGED. LIKE NO.
(Yesterday it powered off THREE times, despite having 80! percent! battery!)
Also I ask for Samsung because I don't like Apple and Samsung is just cool, yo. They have a good camera too. Like Apple. But I just don't like Apple.
BASICALLY JUST GET ME SAMSUNG BECUASE I TOLD YOU TO OKAY???
8. cool stationery-related stuff
Stationery is awesooooome. But like for me, "stationery" covers pens, paper, notebooks, and all that. Because I don't know what else to call it. #smart
PLEASE GIVE ME BRUSH PENS. I'm learning to hand-letter and that would just be awesooooome. I also love gel pens??? Like black ones where the ink just flows so smoothly (and preferably doesn't bleed through the page)???
AND NOTEBOOKS. I love me some notebooks. I've filled none to the max (except for the notebook I brainstormed and wrote parts of IMS in!), but a lot of them have partly-started stories that I don't want to tear out. So notebooks.
(And don't get me like those random small notebooks that have like huge lines and just makes my eyes hurt. GET ME NICE PLAIN SCHOOL SPIRALS. THOSE ARE WHAT I USE.)
Also, while we're at it, if you could get me a BuJo and some supplies for it, that would be greeeeat. 😉
9. time
Shhh, we're pretending that May isn't crazy and that you can actually BUY time (though how cool would that be???).
BUT SERIOUSLY. I need tiiiiiime. Or, if ya could, get me a Time-Turner so I can just finish this blog post at this time, go back in time and finish my homework, then TURN BACK TIME TO READ AND READ AND READ. *cries* This honestly sounds so amazing right now and I'm crying because it will never happen. 😥
I would LOVE it if someone found out how to time travel??? But also I would hate it because people would use it for bad things. NO. I NEED TIME TRAVEL. THERE IS NO OTHER WAY. What about not procrastinating, May???
---
so. what things can people buy for you that you'll love them forever? aka your go-to items for when someone asks what to get you for your bday? samsung or apple??? do you want a time-turner? AND WILL YOU BUY THESE THINGS FOR ME??? (i will love you forever, btw.)
PS I made new flower dividers??? They seem a little too tall for me (I like them nice and long and skinny), but what do you think??? IT CHANGES COLORS, GUYS.