Despite our ever-growing TBRs, us bookworms can't say no to book recommendations.
We are slowly killing ourselves???
But despite the self-murder going on here, I decided to say yes to the wonderful Sarah @ Between the Pages when she asked me to do a collab with her. And obviously because we are great and growers-of-TBRs, we decided to give some book recommendations!
…Of course just a random post on recommendations would be boring. So Sarah and I decided to give each other recs* for some specific genres, so we could EXPAND OUR HORIZONS.
*waggles eyebrows* Look at that fancy wording huh huh.
*This stands for recommendations. For any unsure beans out there. I'm here for you.

the genres
(Am I just adding this to make the post longer??? No. By the way this is May because I feel the need to make all my posts at least 1K words you're welcome.)
MYSTERY: Sarah loooves mystery, and I need to read more! Maybe.
DYSTOPIAN: I'm somewhat growing out of this phase… but I still like that futuristic-society-that-sucks vibe.
FANTASY: AKA MY FAVORITE GENRE EVER HELLO.
ADVENTURE: I also don't read enough adventure??? Or maybe I do I just don't know it's labeled as adventure #oops.
Also, please note that the flower graphics you see are NOT MINE and BELONG TO SARAH. The bookish pics you see below ALSO BELONG TO SARAH. But dude aren't they pretty??? I want seashells.

introducing sarah!
Good afternoon to the followers of the beloved Mango Queen! May and I have guest posted book recommendations, a few per a genre, on one another's blogs. I was so excited to find that she was willing to do this, and I think our plan worked out pretty good. You guys can be the judges of that!
mystery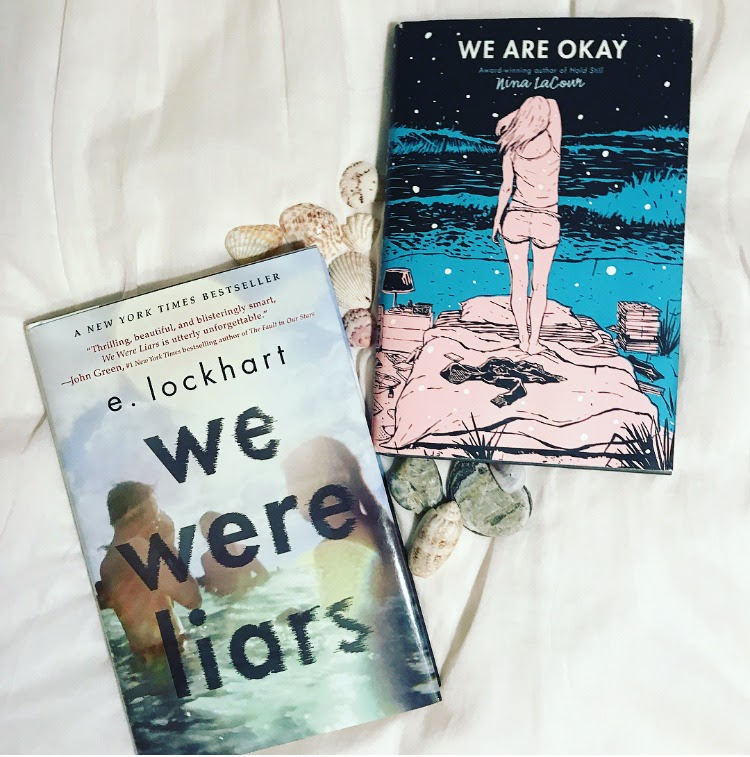 Mystery has recently officially become my favorite genre, which therefore means I already have an endless mental list of mystery novels that I thoroughly enjoyed, but these two (We Were Liars and We Are Okay) are some of my all-time favs. (And I don't own a whole lot of other mystery books haha….the irony just made this awkward lol.)
Anyways, I just find it really entertaining to unravel a good, twisted mystery, and if some romance is thrown in, EVEN BETTER!
Also, you may notice a shell theme in the bookish photos in this post, just because I recently noticed I hoard A LOT of shells.
Comment from May: Oh yes, I read We Were Liars and it was pretty great! THE PLOT TWIST WAS SO AMAZING OMG. (I was actually going to recommend this as well, but figured you would do it instead haha.) And eek, I really want to read We Are Okay! Glad to know you enjoyed it. 🙂
dystopian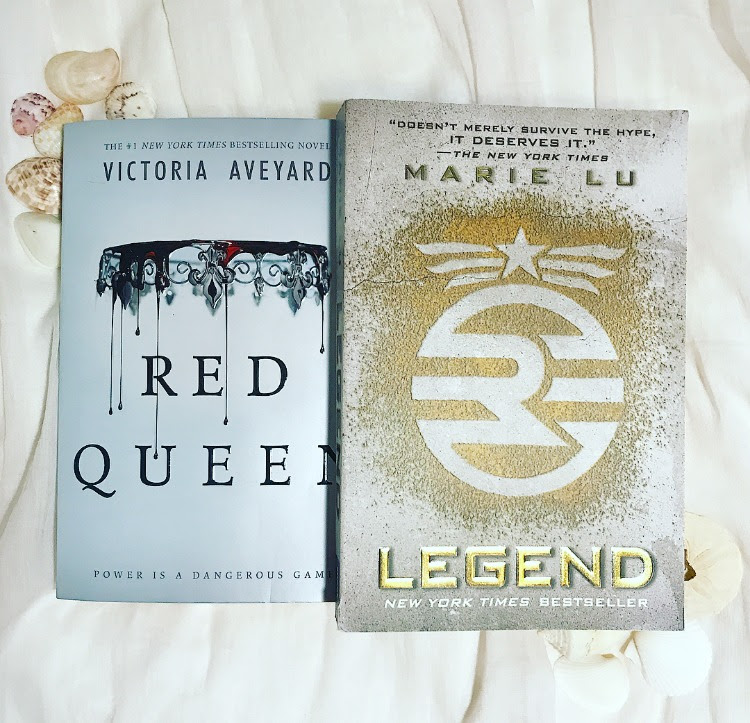 I suffered from a severe Divergent obsession a few years ago, and I still haven't read Carve the Mark; basically sixth-grade Sarah would want to murder me, but I'm just not a sci-fi person.
Okay, I know that Red Queen is definitely more on the fantasy side than dystopian, but HEY THE WHOLE BLOOD RACISM (like racism but instead depending on your blood type. It's not a real thing. YET). THINGS COULD HAPPEN. Futuristic in a way depending on how you look a it? Eek.
Legend is a great book based around a dystopian government, and it's like a less hyped over but better version of Divergent, if that makes sense. The are all equally amazing, the character development is great, etc.
Comment from May: Omg yeees. I was a huge fan of Divergent as well haha! And I'm proud of myself for reading both of these books. Red Queen was pretty good (then it got worse…) and LEGEND IS ONE OF MY FAVORITE BOOKS EVER OMG MARIE LU IS QUEEN.
fantasy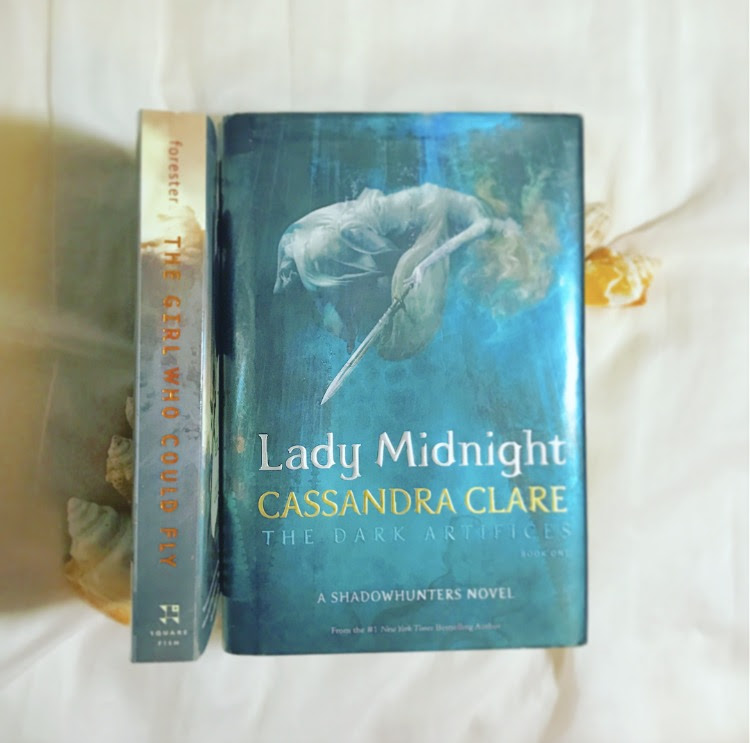 Ahhh, the genre of escapism! Always my favorite before I met YA… The book to the left is The Girl Who Could Fly (sounds cheesy, I know, but TRY to look past that).
Moving on, all of Cassandra Clare's books are AMAZING fantasy books, and must-reads! I don't own TMI book one, so I had to use Lady Midnight for the photo (C.C.'s third series), but all of the series are kinda connected. Which means that you can NOT SIMPLY START ON LADY MIDNIGHT UNLESS YOU WISH FOR YOUR BRAINS TO EXPLODE. Click here.
Comment from May: Oh yes, fantasy is DEFINITELY a favorite genre of mine as well! I'm planning on reading TMI this summer, but there are just soooo many that I don't know if I can get through them haha. And ooh, I'll definitely add The Girl Who Could Fly to my TBR!
adventure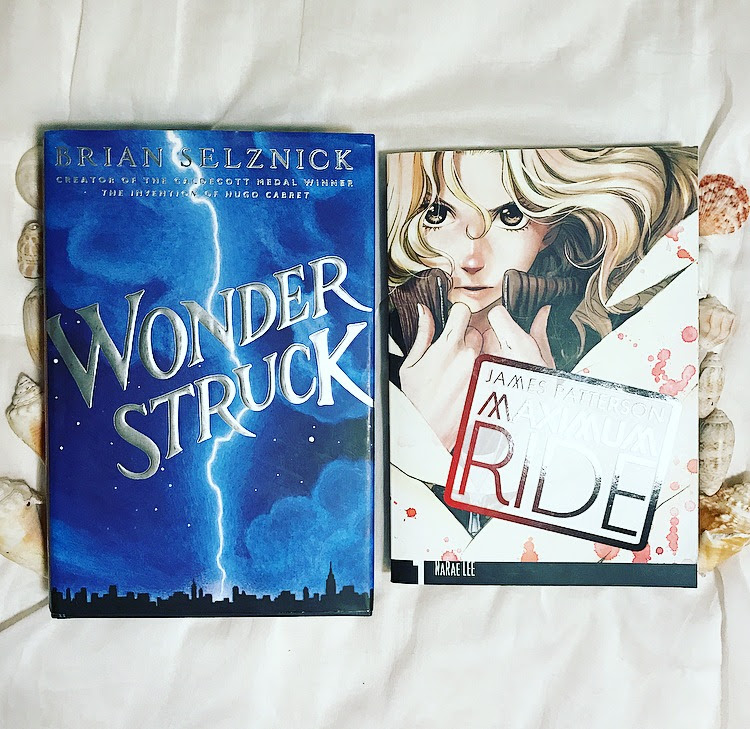 Okay first off, apologies for the disgusting light glare on Maximum Ride. Speaking of which, that book was originally a novel series by James Patterson, but then was adapted into a manga series by Narae Lee. The art in it is amazing, which also leads me to… Wonder Struck!
It's another book like The Invention of Hugo Cabet. (Pretty cool.) Adventure is sort of a weird, in between genre. I feel like nothing is solely adventure in YA. Honestly THOUGH  it's pretty hard to even think of a YA book that doesn't have even a little romance in it!! Not saying that I mind though. 😉
Comment from May: I've heard of Wonder Struck! It seems pretty great. And haha, yes, as long as the romance isn't unrealistic or "too much" I'll love it. I actually read Maxmium Ride, but didn't finish the rest of the series, so I'll have to do that!
Thanks so much, Sarah, for this awesome collab! These recs are all awesome, and I'll definitely be checking some out. 🙂
Anyways, be sure to visit her blog, Between the Pages, if you haven't already! And also check out what I recommended. Because they're all amazing books and you need to add them to your TBR now because what are book recommendations if they aren't there to make you suffer??? #mwahahaha
No I am not cruel why would you ask that.
(I also included cringy bookish pics so if you want to see that, head on over.)
---
have you read any of these books before? what did you think of them? what other recommendations would you add for these genres? have you checked out sarah's

blog

and/or my

 post

yet? and isn't tbr-growing fun yet also torturous??? let us chat and grow tbrs!
P.S. I hit 1078 words #areyouproud.