Who's back with another collab???
Obviously me. But when Abigail @ Ups and Downs asked me to join her in writing a post on some tips and tricks to writing romance, I couldn't say no to this! 1) I'm a bad romance writer so maybe this would help me??? and 2) I must spread my knowledge to all so that they will not fail at life like YA romance does. #kind
This post will only be featuring only THREE of the points, so make sure to head to Abigail's blog and check out the rest of the things we came up with! (Or your mango supply will be taken away and who wants that hmm???)
1. make sure there is time to develop the relationship
Time for May to have a May Rant™.
INSTA-LOVE IS MY BIGGEST PET PEEVE IN NOVELS. LIKE EVER. Even worse than love triangles/squares, or annoying plastic-head characters, or even death of a character I love. (But maybe that's less of a pet peeve and more of a sobbing-forever thing???)
I HAAAAAAAAAAATE insta-love because it is so unrealistic, and it irritates me!!!
To those ignorant ones who don't know what insta-love is:
Basically where two people develop feelings for each other… without ACTUALLY DEVELOPING FEELINGS. (Meaning that they get into a relationship before feelings are even developed.)
You can be ATTRACTED to people at first sight, but you won't IMMEDIATELY FALL IN LOVE with them at first sight. That's 1) judging by appearance and why would you do that???* and 2) so so SO not going to happen in life and therefore unrealistic.
You need to let the characters develop feelings for each other, and THEN put them together. Insta-love is the exact opposite of that and I 14392% recommend that you STAY AWAY FROM INSTA-LOVE because it will cause readers (me) to 1) scream, 2) sob, and 3) destroy the universe with my ultimate tantrum.
An example of insta-love that I've read recently is Strange the Dreamer. That (and something else) RUINED the book's chance of five stars for me, which makes me so so sad, because it was such a good book!
They start feeling things for each other on their first encounter (which makes sense), but then the second time they meet, it's like "omg my feelings have all developed and I love you so very much I would do anything for you" and I'm like WHAT NO.
ANOTHER example is Wink Poppy Midnight. I read that quite recently** and I cringed when they kissed the first time they'd really met. BUT I get that it was part of the girl's personality??? But still. I'm annoyed.
But, a great example of a good, developed romance is A Darker Shade of Magic. Or more specifically, A Conjuring of Light***, but I ONLY OWN ADSOM OKAY. Basically, the characters don't get together until the END OF THE SERIES. Torture. Developed, much?
NOTE: (This will help you with my viewpoint on insta-love so here I go.) I do think that kissing on the first date is all right, BECAUSE they (probably??? most likely??? hopefully???) developed feelings for each other BEFORE the date. Whereas kissing the first time they've ever met…
*I'm totally not thinking of all the ugly covers of books right now why would you think that???
**All of these are recent reads because I literally cannot remember what I read before this week.
***SO THIS IS ADULT, NOT YOUNG ADULT. SUE ME.

2. don't put a couple… just to have a couple
If there's going to be romance, there better be a reason.
And not just "I love you you love me we're best friends like family*". In my opinion, the romance better be there for moving the plot forward, OR developing the character in a major way.
On moving the plot forward: This applies to romance as a subplot (instead of romance as a genre), but still. If the romance subplot has NOTHING to do with the main plot, what is it doing there???
On developing characters in a major way: If the romance isn't ESSENTIAL to the character arc/development, it probably isn't needed??? (This does not count the characters improving/getting worse from the relationship.)
Basically, if you put a relationship in the story JUST TO HAVE A RELATIONSHIP…
There is absolutely NO OTHER POINT than just saying "There should be romance in this book so SHIP".
I mean sometimes it's difficult to accept because YOU SHIP THE SHIP HARD… but is there a point to ship them??? Besides them being the OTP who will always be your babies and your hearts and souls.
As a reader, it makes me think, WHYYYYY IS THIS EVEN HERE. NOTHING in your novel should be pointless—there should be a point, reason, and use for E V E R Y T H I N G.*
An example with a useless couple is… um. Let's see. I can't think of one???
But I DO know a novel/series that has couples that are very point-ful. The Lunar Chronicles has MANY couples (not that I'm complaining??? SHIP SHIP SHIP), and all of them are there for good reasons! One of the easiest to talk about is probably Cress and Thorne. (BTW This is not a spoiler because it is SO OBVIOUS.)
Cress is not good at socializing… or human interaction in general. Thorne is pretty much ALWAYS about looks. But because of Thorne, Cress gets better at talking with other people and is "normalized". And Thorne learns stuff about himself (I forgot what exactly) and also learns that NOT EVERYTHING IS ABOUT LOOKS.
See. Healthy relationship right there.
*SAY HELLO to your Barney trash two-year-old child.
**Especially character deaths. ESPECIALLY.

3. create conflict and flaws in the relationship (but still have respect)
Let's say a couple has been together for a few months.
OBVIOUSLY they have never ever fought or disagreed about something (like restaurant food choices) in the course of their relationship.
ARE THEY EVEN HUMAN is the question we should be asking. Because what kind of human being has NO conflict whatsoever and DOESN'T FIGHT with anyone* and gets along with everyone and everything???
A dead human being that's what.
But seriously, people are full of flaws and so are relationships. We are also full of our own opinions and think we are right (in the case of "mangoes > vegetables" I AM RIGHT) and people DISAGREE with our opinions and think THEY'RE right.
We live in a twisted world, folks, a twisted world.
But you have to let that show in your character's relationship too! Whether it be "omg I saw you near your ex-girlfriend and now I'm jelly what are you doing with her" or "why didn't you make me a sandwich when I very kindly asked you to???", there HAS TO BE CONFLICT.
That also relates to flaws as well. I've talked about how flaws are important parts of characters. AND IT'S IMPORTANT TO RELATIONSHIPS TOO.
Basically, the conflict(s) is the flaw because they may not trust each other or may not listen to each other or maybe they're too clingy or whatever but the flaw causes the conflict. Or it IS the conflict. I honestly don't even know anymore.
But even though there is conflict, make sure that the characters in the relationship STILL RESPECT EACH OTHER. Disrespect in a relationship is a DISGUSTING (imo) thing to read. So just… don't.
One GREAT example of flaws, conflict, and respect is Crooked Kingdom (Six of Crows #2). The relationship between Kaz and Inej is BEAUTIFUL. As in, one can't touch others because of tragic past events, and the other can't be touched. HOW IRONIC AND GORGEOUS AMIRITE.
*

Amelie

I'm looking at you you little fight-seeking scary pear.
So this was literally just a very ranty post??? BUT it was very helpful and gif-filled so it is automatically 16043% better than a regular ol' ranty post. YOU'RE WELCOME.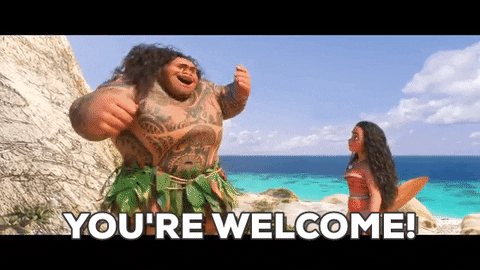 I had so much fun with this, though!!! And definitely not because I got to rant and 99.9% of my life is ranting!!! Definitely make sure to check out Abigail's post over on Ups & Downs, to see more of the points we came up with! (If you don't I will hunt you down.) Also be sure to follow her lovely little blog. 😉
---
do you hate insta-love too? what about useless relationships? and perfect relationships? what do you want to see more in ya romance? have you checked out the other three points in our collab yet? and are YOU a fight-seeking scary pear??? (i'm sure amelie will fight you if you say yes.)