Obviously I have some #trustissues.
I'm mostly trustful tho??? And also trustworthy. Completely trustworthy.
One of my top trust issues is with book reviews/reviewers. Like is this book actually BAD or does that person THINK it is??? Should I read it because they say it's good??? Or ignore it because they saiy it's bad???
I mean if the majority of the people are like EW EW 1 STAR DO NOT READ I probably won't read it. But if it's a bunch of mixed reviews??? WHO DO I TRUST.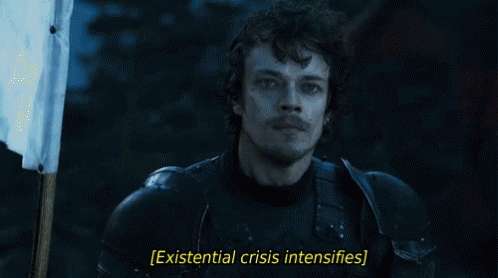 Because of this major minor existential crisis problem I've been having, I decided to write a discussion on it and hear your thoughts! I seek help. A lot of it.
But a small note that I'm talking about trusting book review(er)s BEFORE reading the book. As in, should I trust this book review(er) and read/not read the book??? Hopefully that makes sense?
A NOTE: I'm posting this on a Friday (vs. a Saturday) because my post for Wednesday got RUINED. It was all about my trip to Canada and the PHOTOS DIDN'T SHOW UP ASDFGHJKL. I fixed it multiple times but it never worked. So I'm salty. Way too salty to try to fix it again. (Spent 6++ hours on that post??? SALTY.)

origins of my #trustissues
cookies and cream ice cream with no cookies… like waht
food that looks delicious but is actually disgusting
books I think I'll like but actually HATE
Hamilton songs because why do they all start with "dun duh duh duh dun dun dun *violiny sounds*"
erasers that are DRY AND DON'T ERASE
WordPress saying that my post has been scheduled "two minutes ago" but it still hasn't published???
piano pieces that look difficult but NO THEY'RE ACTUALLY IMPOSSIBLE
a book (aka Winter) I didn't realize was 800+ pages until after I read it
emails that are marked "unread" but I'VE ALREADY READ THEM???
the fact that I can't think of more #trustissues origins… where are you hiding
DO YOU SEE WHY THIS IS A PROBLEM??? Why do they trick me like this.

why you should trust book review(er)s
You have similar reading tastes! If you and a blogger are matching in star ratings for a lot of books, WOW ARE YOU TWINS. If they like a book, you probably will like it too???


…

They have the general opinion. If one book review rates the book the same thing as a lot of other people do, then you can probably trust them???


…

Their aim is to get you to either read or not read the book. They want the BEST for you and would not feed you false lies* (or would they) so you can trust them!!! They genuinely care about your pathetic little cabbage heads.


…

You just trust them with your life. That person is obviously very trustworthy and the question is: Why WOULDN'T you trust them.
(This isn't to say that you should ALWAYS trust book review(er)s, though.)
Knowing the general opinion of the book is always good to know. If it has an average rating of 1 star on Goodreads… you're probably going to NOT read it??? (Right.) And if it has a 4.75 average rating, you have a VERY high chance of liking it. (Though not always!)
*Really May WHAT OTHER TYPES OF LIES ARE THERE. (Lies by omission, that's what. And also half-lies and quarter-lies and 3-quarter-lies and unknown lies and now I'm getting scared of myself.)

why you shouldn't trust book review(er)s
Everyone has their own opinions! Even with similar reading tastes, you're likely to have a few disagreements. For example: Not everyone likes mangoes??? I don't know how this happened, but it did.


…

They could be biased. Maybe they REALLY REALLY love the author and will give anything that author writes an automatic five stars. Or maybe they HATE that author and it's automatic 1 star. So you probably shouldn't trust them???


…

They could be robots. AND IF THEY'RE NOT WHO THEY SAID THEY WERE, WHAT ELSE ARE THEY LYING ABOUT??? (Hint: their book reviews.)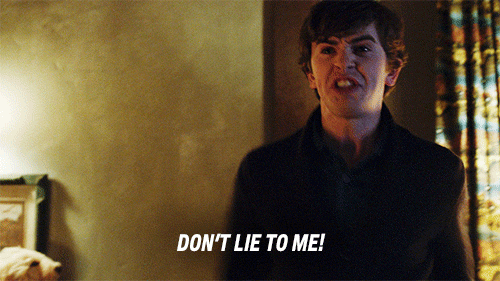 You become their wannabe. "You hated it, so I will hate it." "You loved it, so I will love it." "You threw this book across the room in fuming rage, so I will throw this book across the room in fuming rage."
(This isn't to say that you should NEVER trust book review(er)s, though.)
Pretty much the biggest thing here is that they could be robots and lying to you about their whole existence DIFFERENT OPINIONS. You're going to read the book with different eyes and you WILL form a different opinion on it!

my thoughts?
Personally, if a book has less than an average 3.5-star rating on Goodreads… I probably won't read it. If it's just generally disliked why try it at all???
I usually STAY AWAY from book reviews before I read the book, because I want to form my OWN opinion about it and not be tainted by others'. If I read negative things, I'll be looking for them. If I read positive things, I'll be looking for them too. And if I don't find them???
OR I find them and then they're the only thing I see and I therefore neglect everything else and BECOME THAT BOOK REVIEW. HELP ME I'M SUPPOSED TO BE HUMAN.*
But if a person I follow/am friends with on Goodreads likes a book? I'll probably add it to my TBR. I am very "welcoming" in my book choices/ratings??? Aka I'm too nice and please help me be meaner.
I'm pretty much neutral. (Like on everything else May omg STOP BEING SO INDECISIVE.) I'll trust the general thoughts on it, and I'll also trust the people I have similar reading tastes too.
(And also my blogging friends and blogger/reviewer idols and all that. Like I said, VERY WELCOMING.)
I do think that everyone has different opinions and perspectives, so there is no WAY that I will enjoy the exact books you do! So even if people generally love the book… I may not. And that's completely O K A Y.
Also, something I've noticed is that on Goodreads, some people see that a popular reviewer hated a book, and they're like "Oh I'm NEVER reading that." To which I am ??? Because why would you let a reviewer (popular or not) dictate what you read???
YOU HAVE DIFFERENT OPINIONS. You may actually like the book that the reviewer hated. And will that be okay? YES IT WILL.
Like, please don't. Sure you idolize them and all but ARE you them??? No. GIVE THE BOOK A CHANCE!!!
*HAHAHAHAHHHAHHA HAHAHAHHAHAHHA HAHAHA HAH.

my conclusion
Idk why I'm having a conclusion??? But basically, you need to have a balance of trust and "mistrust". (Iiiiiiiiin myyyyyy opinionnnnnnn.)
You can't always expect to hate/love the same books other book reviewers hate/love. But at the same time, they can really help you in the existential-crisis-causing decision of whether or not to read the book.
TRUST IS GOOD! Usually. But make sure you don't trust TOO much because where would that take you, huh???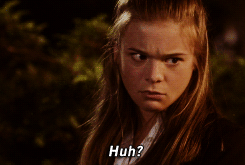 (Okay but seriously why do ALL THE GIFS IN THIS POST HAVE THIS DARK BROWN BACKGROUND?!?)
---
this was a strangely formatted discussion??? anyways, what are YOUR thoughts on trusting book review(er)s? how much should we trust them? do you think you trust a little TOO much? or trust too little? and have
you
friended me
on goodreads yet??? #ShamelessSelfPromo
Your post-ly reminder to sign up for Scribbler before the deadline!