You have to admit, I'm a pretty good blogger.
And by pretty good, I mean great. And by great, I mean amazing.
I'M JUST KIDDINGGGGGG. I actually am really shy about my "blogging success" (see the quotation marks). But a lot of you guys have told me that I'm an "amazing" blogger and that I'm a favorite of yours and IT MAKES ME SQUEAL OMG THANK YOU SO MUCH!!!
But when the sweetest-ever, kindest-ever, amazing-est-ever Marie @ Drizzle and Hurricane Books forcefully said suggested that I write a post on how I was an "amazing" blogger, I was a little mixed:
1) OMG SHE CALLED ME AMAZING AWW STOP BEING SO SWEEEEEEET AD;FLJASLD;FJASD, and 2) telling all my secrets??? me??? no??? HOW COULD I.
But apparently I could and I can because here I am. (I can RHYME.)
Note: I do not credit all of my "blogging success" to these little "secrets"! I am positive that most of this is just luck. Of course, I did a few things to help me get more lucky, but mostly??? This is all YOUR doing, not mine!
Another note: When I say "amazing" blogger, I mean "successful" blogger. Just to clear that up. (THOUGH SUCCESS IS VERY SUBJECTIVE!!!)
Another note: I'm not revealing all my secrets HAHAHA SUCKERSSSSSS.
1. i interact(ed)!!!
INTERACTION. IS. SO. IMPORTANT. SO IMPORTANT. My #1 tip for any and all bloggers is to I N T E R A C T. I cannot stress it enough omggggggg.
Okay actually I can: INTERACT INTERACT INTERACT.
all the ways you can and should interact:
Follow other people.

You aren't going to get your blog known by just posting on your blog and doing nothing else. That's like waiting for the mangoes to peel themselves. It'll happen one day…


.

Comment on others' posts!!!

But not only can you follow, you have to comment too! A lot of people don't follow for follows (me included), but if you leave a comment, they're more likely to check out your blog!


.

Answer comments on your blog.

Look, we all get busy. But if you can write quality posts and comment on other people's posts, YOU CAN ANSWER YOUR COMMENTS. And don't you like replying to all these lovely people???


.

Network!

Promote your blog on social media. I know Twitter and Instagram are really big places for the bookish community, along with Goodreads. Get your blog known! Talk to people! Make friends!


.

MAKE CONVERSATION.

If you can't make conversation in the good ol' comments section, you aren't going to engage the reader in your posts. Talk to others and be a friendly little mango!


.

Just be active!

Being active in the community by talking to others, knowing what's going on, and being able to support others is just a REALLY GREAT THING. *nodnod*
As soon as I started my blog, I interacted. I think this is part of the reason that my blog "grew so fast", because of that early interaction!
HOWEVER, I didn't stop interacting after I got x amount of followers. I just continued. And continued. And here I am today, regretting all my life decisions.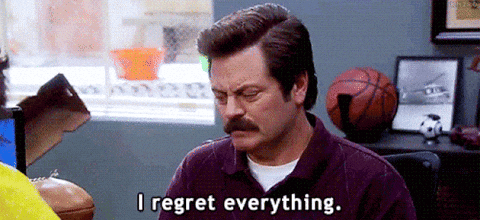 *I'M NOT TRYING TO BRAG OKAY? I love you and your numbers don't mean anything as much as sharing what you love with others and making new friends. <333
2. i have a posting schedule + i plan ahead
Having a posting schedule keeps me on top of my game. For example, I know that I'm supposed to have a post up on Saturday, so I can start typing the post up so it'll be ready to go.
And if it's Saturday and I haven't finished because #procrastination, GUESS WHAT! Having a deadline is VERY motivational!!!
Buuuuuuut I don't ONLY have a posting schedule—I plan ahead. And this helps me A LOT, because I'm not freaking out if I don't know what to post the next day.
Check out this post to learn more about my post-planning and -writing process! (Like, a LOT more. Much more elaboration than this pathetic little section.)
3. i have a pretty blog design
FACT: Humans are shallow.
FACT: Humans do not like ugly things.
FACT: Humans will judge things by their appearance and if it doesn't LOOK appealing to them, it ISN'T appealing to them, in their minds. Thus why if you need to have a pretty blog design to get people to click on your blog AND STAY.
I have a pretty blog design! I'm not being very humble about it BECAUSE I KNOW IT'S PRETTY.* I've been told it's pretty and aesthetic and I am human too. I have eyes. IT IS PRETTY.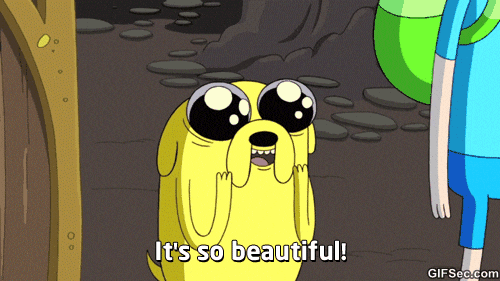 And this is one of the things people like about my blog! (They said so in my survey, I'm not making this up???) So if you want to be successful: make your blog AESTHETIC. You will not attract anyone if your blog DOESN'T LOOK GOOD.
It's a fact.
*Someone actually needs to make that #PetitionForMayToShutUp2K17.
4. i am MYSELF (but also entertaining)
Time for a little story, kids.
Once upon a time, an innocent little girl named May started out in the blogging world. She tried very very hard to be funny and witty and somewhat managed it, but was more cringy than anything.
EXTREMELY cringy. So cringy that she will literally scream if people view her old posts.
She tried to write in a voice that wasn't really hers because she was trying to be funny, since humor attracts people.
But, even though she started out as NOT herself, she now has a blogging voice that is entirely her own, and it's continuing to evolve. She was not naturally funny but now she is* and she HAS HER OWN VOICE but it entertaining.
Bloggers always say to BE YOURSELF, but it's hard for me to agree because I didn't exactly start out that way? Of course, now I'm not trying extra hard to be funny so I'm myself, but I DO try to be entertaining, and stretch myself to be witty.
I also have lots of different parts of my personality: In real life, I'm more sarcastic than "witty", and on Goodreads, I'm definitely on the snarky side of humor. (AT LEAST I THINK SO.)
So I have very mixed views on this. You need to be yourself, but in a way that is entertaining.
For example, would you rather read this:
Today I ate a cookie and it was good. It had chocolate chips and was really really big, but that just made it even better. I also had ice cream. Now I have a stomach ache.
ORRRRR:
So today, I ATE A COOKIE. And omg it was so so good??? It had chocolate chips and was HUGE and so delicious aghahgasdklj;alds. I also had ice cream which was just as delicious, but now I have a stomach ache. But do I care??? Hahahah NO.
It actually was harder for me to be that dry, boring narrator voice, than that not-really-funny-and-more-cringy voice. But you see what I mean??? So again, be yourself, but also entertaining for people to read.
OR you could ignore this advice, which is fine too.
*Is she, tho. Is she.
5. i break up text + add color/visuals
LOTS OF THINGS TO TALK ABOUT HERE.
First of all: I have gifs! I have color! I have different text sizes! ALL TO MAKE IT MORE APPEALING TO YOUR EYEBALLS. If this wasn't my blog and I was merely a loyal follower, I would ADORE this blog because my eyeballs are pleased.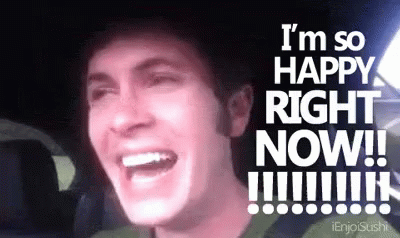 I also do not have large chunks of text! I hate it in books, I hate it in articles, and  blog posts definitely are not left out.
I mean, I have a short attention span??? So if I'm in the middle of reading a large paragraph, I'll probably just lose my concentration and forget everything and GET BORED. Especially when it's just SO easy to find a spot to put a paragraph break!
Generally, I try to keep each paragraph no longer than three lines (in the WordPress Reader). BUT I don't want to make a new paragraph every time.
Like this.
Because that's annoying.
VERY VERY annoying.
EXTREMELY annoying.
I can't even with how annoying this is.
Like omg I'm just so done.
Okay, but seriously, don't make posts that have lots of text with long paragraphs and no color/visuals! MAKE IT EXCITING. I don't want to bore myself when I come to your blog. Or hurt my eyes. (See #3.)
6. i have a distinct blogging voice
This is similar to #4??? But also not really, because there are a COUPLE of specific aspects I want to talk about from my blogging voice.
If you don't have eyeballs, you may not have noticed that in posts, I:
SCREAM IN ALL CAPS LIKE THIS
use??? a??? lot??? of??? question??? marks???
(and also use many parentheses)
and mention mangoes (THOUGH I HAVEN'T BEEN DOING THIS RECENTLY OMG WHO AM I???)*
Oh and on the mention of mangoes, it's also nice to have a little "brand" for yourself. For example, I am The Mango Queen because I, um, love mangoes. And you know what I think of when I see the word "mango(es)"??? MYSELF.
This is the brainwashing we need in 2K17, kids.
But seriously: BE DIFFERENT! Have something that sets you apart from other bloggers, whether it be small or large. It will REALLY help, I promise.
*Look at me incorporating all THREE (3) of those aspects.
7. i write quality posts
Listen, I'm not here to shame you for how "quality" your posts are. "Quality" depends on the person, actually???
But I spend a lot of time working on my posts. More than an hour. Around 2 hours, probably more.
I do soooo many things to make sure it looks nice and that it's entertaining and that it's a reasonable length. (Personally this is 1K+ words, because I've found that the quality is better when there's more words.)
My style is not a quick random post every day (AND I'M NOT SHAMING BLOGS THAT DO THIS!!!). My style—both what I like to read and write—is a post every few days that I spend lots of time on and feel PROUD of.
And I really think this pays off! For example, isn't this a MAGNIFICENT post??? It's getting a bit too long (hitting the 1.5K mark right now), but it's QUALITY and HELPFUL, something that readers will (hopefully) ENJOY, and something I'm PROUD of.
But! Again! Don't start writing long posts just because I told you to. Really, don't write long posts if it's going to be full of fluff. DO YOU. Just try being more quality. ;))
8. i make things fun + am kind + am positive (aka I CARE FOR YOU!)
You want to have a positive atmosphere and vibe! You don't want to be NEGATIVE all the time, because why would people ever read your blog if you were just a downer on everything???
It's like people not wanting to eat the mango because it's rotten. WHY would you want something that makes you uncomfortable and, uh, sick, when you can have a FRESH and GOLDEN and HEALTHY mango???
But I (HOPEFULLY) set up a fun environment, where you feel safe and will NEVER be shamed about your opinions, or anything else.. I'm just really big on respect despite different beliefs. I also want you to ENJOY yourself on my blog!
And all of these things are because I CARE ABOUT YOU.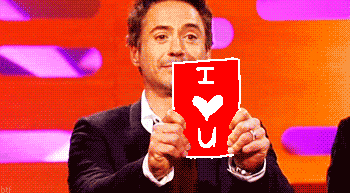 I love you all very very much (because you guys actually want to read random things that I write omg I feel so appreciated) and I just care a LOT for you. I write posts that I think YOU would enjoy. I do things to please you* and that's what makes me SPESHUL.
*I'm a people pleaser. Sue me.
9. i just… got lucky
And there it is, the greatest secret of them all!
While doing the aforementioned things will DEFINITELY help you become a great blogger, it won't give you 1000 followers in a week. (That is a dream, my dear lettuceheads.)
I AM VERY LUCKY!!! I really do not know how people found my blog, or why they like it so much (literally guessing on all of the above), or people keep following.
It's up to the people out there to decide whether they want to follow you, and you can only brainwash help them make a GOOD decision.
In all honesty, a lot of things about "popularity" are based on LUCK.
NYT bestselling authors got lucky with good writing and agents and editors and publishers.
Billboard artists (is that what they're called???) got lucky with good voices and catchy songs and record deals.
Hamilton got lucky with a wife who forgives and loves him even though he absolutely SUCKS… I mean WHAT WE LOVE YOU HAMILTON.
But my point is: Some things aren't in your control. AND THAT'S OKAY! You keep doing you, and people will come. YOU put the YOU in YOUtube I'm sorry I hAVE NO IDEA WHERE THIS CAME FROM.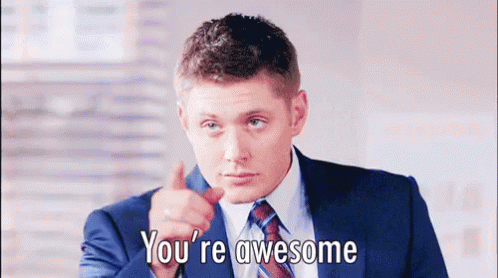 ---

what secrets do YOU have for being an amazing blogger? do we share any? what else can you add to this list? do you have a pretty blog design? (if not, you need to step up your game, man) and would you sign a petition for me to shut up??? (i would)
PS guess who wrote a post over 2k words and hates herself for it!!!