You may not know that I hosted a writing project this August.
Or maybe you did??? In which case good for you for being an intense May stalker. Very healthy.
But even if you didn't, that's okay! The writing project was called The Scribbler's Challenge and basically, I provided prompts and you were to write responses to them. Then your partner/group would give feedback on what you wrote.
But The Scribbler's Challenge is officially ending TODAY. Because today, I'm announcing the winners and some other fun things, including:
writing advice
snippets from the Scribblers' writing
a link to my own writing whaaaa???
…that's it
how sad
So hopefully you'll stick around for the whole post (INSTEAD OF SCROLLING DOWN TO THE WINNERS I SEE YOU YOU LITTLE SNEAKY BRAT)! Because it'll be very fun. And not at all long.
IT'S A HELPFUL EXPERIENCE OKAY. Writing advice.
WRITING ADVICE FROM THE SCRIBBLERS
In the sign-up form, everyone was asked to give some writing advice. I'll only be including advice from the ACTUALLY ACTIVE participants, because otherwise, that'd just be a whole lot of advice!
I've also bolded the ones I think are most important—though ALL of these pieces of advice are amazing!
[When editing] cut scenes that are only there for description. It's best to keep scenes that serve multiple purposes, like plot/character development/subplot.
Try not to compare yourself to others, I'm guilty of this and it's definitely not good. Believe and focus on yourself and your own writing! Everyone's good in their own way. 🙂
Don't compare your work to others.
[condensed a bit] Just write. Pick a pen and paper and just write what's on your mind or something you think will be fun. Don't think 'let's write a poem about freedom;' because you restrict yourself so much.
I think inspiration is key for writing a lot so make sure you go outside a lot. I also think that once you write a piece, don't look over it WHILST writing (set the text color to white and put your brightness really low). Then 2 days later, look back on it with a fresh mind and you'll be a better editor.
[condensed a bit] There is a fine balance between showing and telling. Showing is important, because it can help delve into a character's characteristics.
Sometimes, there are reasons why telling is better. But ultimately, showing versus telling goes a long way—it can also help with pacing. In the end, it's the writer's call to strike that balance to see where it fits and doesn't.
Word vomit; if you go back and keep editing your writing you'll never get any further.

Write daily.

Even if it's a small passage or three-four lines of dialogue any writing is practice. Practice helps a HELL of a lot and it keeps the creativity flowing even if you're too busy to sit down and write a lot. Having a lull in consistency when writing often leads to writer's block in my experience.
Start with an image, not an idea.
Using the phrase 'I said' after every phrase within a snappy conversation (in which the comments are only a couple of sentences) can often get redundant and possibly cause the reader to struggle with the scene.

Write what you love.
Write something that you like, especially if you follow advice like "Write whatever and go back and edit it later :)))))" because you're going to end up with a lot of writing you don't like at all that you have to go back and rewrite instead of writing something you like the first time.
JUST KEEP WRITING. Life motto.
Write as often as you can and you can make up your own rules once you're experienced enough.
Don't write for them. Write what's right for you to write.
A good backstory makes for a great future story. I always end up making a backstory for my characters and world, because for me, I always draw things from the past of the story to make the future. With a good backstory as a foundation, a future can be sturdily built.
[condensed a bit] It's important to remember when writing a first draft is that one is merely building the backbone of the novel, the first attempt is not going to be a masterpiece. It's not healthy to compare ones writing with the others because it usually is discouraging.

Write what brings you joy

, write what you feel, allow your words to tell the world what you cannot say aloud.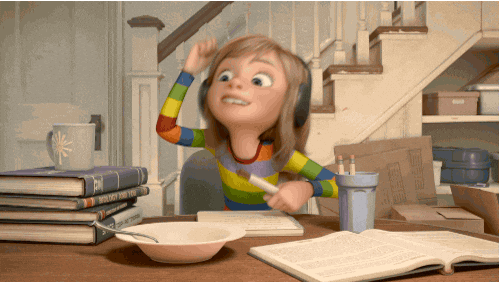 Write EVERY day.
Before you start writing and put yourself in the setting. Observe all the details you can, listen closely, smell and touch whatever you can. Then, empathize how your character reacts to the place, what, in the setting, is important to your character and why. Only then, start writing.
Actually LISTEN to other people's feedback, it will help make your writing better.
Don't rush the story, the reader won't know what to do. Don't put in lame lines like, "I want to go home." If someone's kidnapped, duh they're gonna wanna go home. Make sure your spelling/grammar is correct.
It can take a long time. Writing isn't easy, trust me on that, and it never will be. But it can be done with time, patience, support, and determination.
It is okay if your first draft is messy and short, and burns your eyes when you look at it.
Try not to let the big picture and your internal monologue disrupt the flow. There are pieces of writing I never would have written if I had been hung up on how each sentence landed as I was writing it.
The hardest thing to do is to get a character to through a door.
Write drunk, edit sober.
The hardest part of anything is starting.
Aren't these all such inspiring pieces of advice???
SNIPPETS!
Below are some snippets of Scribblers' writing that I was so deeply moved by. So you PROBABLY have amazing writing, but I'm just featuring the amazing writing that made me FEEL.
Because that would be a whole lotta snippets if I was sharing "amazing writing".
Also sorry I like all the depressing writing. :))
"He was just a debris of death, still hovering in this world, defying its weak laws."

—Ilsa
Ummmm "debris of death" WHAT IS THIS BEAUTY???
"because if you really love me you should know the backs of my knees and behind my ears and the insides of my elbows and everything about me that's a little bit squishy and not at all pretty."
I am trash for Amelie's writing OKAY.
"and you take your glasses off during the eclipse and you go a little blind but nothing much changes.

you tattoo your arms because you want your sunflowers to stay with you even when you want to take a garden shear to everything."
Another snippet from Amelie because, like I said, TRASH. How is it so beautifuuuuul.
"All you see is shattered glass.

And you can't look away."

—Aris
DFJASLD;FJA;LSJFADS Why am I feeling ALL THESE THINGS???
"headlights flare belligerently, the ephemeral metal promise of a coliseum of shatterproof "i wills" and "somedays" swerves through the muddy fabric of time."

—kris
Omgggggg all those words and IT'S SO BEAUTIFUL AND BITTERSWEET.
Once upon a time, a river waited for three boys to drown.
What the FRICK how am I not supposed to be messed up over this line???
"[…] the stars on the lake are so pretty like glitter in frozen ink"
Another one from Lenna because her writing is so beautiful DASJF;LAJDSLAKDSF.
"                                           it is not

                that I am afraid of death

                           for it is merely

               a passage"

—Lana
Why and how does everyone write such GORGEOUS lines???
"Heartbreak isn't always red."

—Flaw
All of Flaw's writing is so gorgeous, but this one, four-word line just MOVED me so much adjf;lasd;lkads.
AREN'T THESE ALL SO FRICKING AMAZING???
[[[[[shhh my own writing]]]]]
Hi here's what I wrote for The Scribbler's Challenge if you want to read it. I pretty much hate everything I wrote because it's been some time and anything written before today is cringy to me. :)) Also I kind of wrote something for Prompt #6 but it was so bad adj;flajdsf;lka.
Let me know if you want to know what the prompts were if you want to write something to them!
WINNERS!
WOWOWOW WE'RE ALREADY HERE???
Before I get into the announcement of the winners of The Scribbler's Challenge (!!!), I just want to say:
You guys are all AMAZING writers. You each have your own personal style and that's what makes you different and special and PERFECT in your diverse way. Keep writing, because
Just because you didn't win does NOT mean you aren't a great writer!! Just like everyone else, I have a different taste in terms of reading and writing. So you may be a supremely amazing writer but I'm too dumb to see it. :')
Okay, AND NOW FOR THE WINNERS!
The winner with the overall best writing is…
Wow, how to describe Amelie's writing.
It's absolutely amazing. It's beautiful, lyrical, mysterious, GORGEOUS. The way she writes, her style, her word choice—everything in her pieces were so purposeful and on point. I LOVED HER WRITING, okay??? LOVED IT.
Wow. I still can't describe her writing. You have to read it to really see what I mean. I felt such deep emotion when I read her pieces (almost teared up a few times), and her writing felt so ALIVE. What and how Amelie writes is something I love to read and would dream of writing like one day.
This girl TRULY knows how to create masterpieces. (See above snippets.)
Also a note that I'm friends irl with Amelie but this did not affect my decision in any way!!
(I'd also like to say that while I connected deeply to Amelie's writing, others may not! That's why deciding winners for writing is extremely subjective. While I'm not shooting down Amelie AT. ALL., I just want to say that ALL of you are amazing writers—I just felt so, so moved by Amelie.)
Many congrats to Amelie!! Please don't ever stop writing. <33
RUNNER-UPS ARE:
Lenna (WHAT HOW WHY such magical writing omgggg I'm in love)
…nobody else, really (I'M SORRY AMELIE SET SUCH A HIGH STANDARD >.<)
if I could put everyone on this list, I would
but I won't
sorry :))
And finally, the winner with the overall best feedback is…
OMG???
This girl wrote AMAZING feedback. She found the perfect balance between what she liked and what she thought could be improved about her partner's piece. She provided so much detail and depth, and all of it was in a kind, non-imposing way.
You can really tell that Rayne is a great writer, just by her feedback! I literally read over what she wrote, and thought, Whoa. Honestly, I'm in awe of how much feedback she gave for just tiny little prompt responses! I'd be amazed to see her critique a whole NOVEL.
Heeeeey Rayne would you like to look at my writing…? JUST KIDDING.
Many congrats to Rayne!!
RUNNER-UPS ARE:
Kris (funny comments on specific phrases + great feedback + A SWEET LITTLE NOTE AT THE END AWWWW)
Nandini (edits + extensive likes + improvements = wowooowwow???)
THANK YOOOOU!
I just want to give a HUGE thank you to everyone who participated in The Scribbler's Challenge and helped promote it! Y'all are so so supportive and ASDJFA;LSKDFJADSL; thank you soooo much. <333
If you were a participant, I hope you had a fun and helpful experience! It really has been a blast doing this and I wouldn't have been able to do it without you.
I have a feedback survey you can take (because I'm like that), so if I ever do this again, I'll be able to improve it and make it an even BETTER project! So I'd appreciate if you took it. :))
---
did YOU participate in the scribbler's challenge? what pieces of writing advice do you have? aren't the snippets absolutely gorgeous??? <33 have you congratulated the winners yet? CONFETTI AND MANGOES FOR EVERYONE!!