I'm a generally awkward person.
I don't know if you've noticed yet??? Because I make jokes and PRETEND like I'm not*… but really, I'm awkward.
Usually, "awkward" and "interactions" go hand in hand. I mean, it's totally possible to be awkward without interacting with anyone at all. Aka me all the time.
I've decided to talk about awkward blogging interactions because AWKWARDNESS IS FUN TO TALK ABOUT!! And also hopefully you've experienced these things yourself too and it's not just me being extremely awkward
Note: I took like a random week hiatus from posting?? I missed last Saturday because I had dance stuff (which was SO AMAZING but then I got really sore), and then I just decided to wait till today to post because I'm SUPEEEER behind on posts & comments and wanted to use the week to catch up. You love me. Even tho I didn't catch up.
*Internet me is so different from real-life me?? Example: I go by a different name!!! That's definitely not a big change at all!!!
1. really short comments
Person: I relate to #3!!
Me: …Thanks? Cool? I'm glad you could relate? Thank you for telling me? I feel much more educated now? I don't really remember what #3 was?
Honestly I probably could've done the generic "I'm glad you could relate!! [smiley face]" and been done with it but then I overanalyze myself by thinking "omg my comment is longer than theirs that's awkward" so I just… ignore it…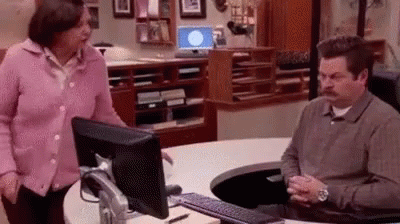 I'm a good blogger, I swear.
(I had to write that in big font to prove my point.)
2. unfollowing someone who immediately starts commenting on your blog again
Person: Omg I love this post!! I totally relate to everything on your list and you're so funny omggggg. I really loved what you said about this… oh and I could REALLY connect to this… and I just love this post and you and your blog!!!!
Me: [NERVOUS LAUGHTER] Thank you so much!!
Me: *follows their blog again*
It's super awkward when this happens (thankfully I've only experienced it like twice), because you feel like 1) they KNOW you unfollowed them and they want you to follow back, or 2) they comment a lot on your blog right after you unfollowed them and you feel bad.
It is completely OKAY to unfollow a blog! If their content doesn't interest you, then you shouldn't be following along! Just because they support your blog doesn't mean you have to support theirs (tho it's nice). And if you want to, you can always comment on posts when they comment on yours!!
3. promo comments
Person: Omg! What a great post! I love it! You have such an awesome blog! Would love it if you would also check mine out at iamdesperateforattention.wordpress.com!!!!!! xxx [insert lots of heart emojis to make up for the fact that I'm trash]
Me (option 1): *doesn't answer*
Me (option 2): Omg! Thank you so much! I'm so glad you love my blog, considering the fact that it doesn't seem like you've taken time to read it at all! Oh, and I'll be sure to pay the same amount of attention to your blog as you did for mine (which actually, is no attention at all)!!!! xxx [insert lots of heart emojis to mock them]*
Okay so this has kind of just turned into me roasting people but like you know what?? It's still pretty awkward. Even tho it makes me more ANGRY than anything.
But it is kind of awkward because I'm like DO I IGNORE THEIR COMMENT OR REPLY WITH A ROAST COMMENT.
Yeah, I sound a little mean, but honestly?? Don't treat bloggers like trash. If you want respect and blog followers, treat other bloggers with respect??? Faking a comment and pretending that you read a person's post when you really just want followers is a pretty crappy way to treat a blogger. Don't expect anything better than crappy treatment back. *This is an answer inside my head. I would probably type that out and then delete it, because I'm actually a genuinely nice person HA and I'd feel bad saying that to anyone. Don't fear me. I promise I'm fairly kind.
4. when someone responds to your sassy response to a promo comment
So this basically goes with the previous point about promo comments and this ACTUALLY HAPPENED to me before.
Someone wrote an ingenuine comment that pretty much was a promo comment (if I remember correctly), and I got kinda frustrated. This was after I'd posted my blogging pet peeves post where I talked about how promo comments REALLY ANNOYED ME.
So then I responded pretty sassily to them, not expecting a reply back. BUT THEY REPLIED TO ME. AND IT WAS SO AWKWARD.
I mentioned that the person should go look at my most recent post that talked about genuine comments, and then they actually read and commented on it, saying how they saw my point now and they wouldn't do it again.
I JUST FEEL REALLY BAD. AND IT WAS SO AWKWARD. DOES ANYONE HAVE A BASEBALL BAT TO HIT ME WITH.
5. people asking you to promote them
Person: Hey! I'm doing a blog tour and I was wondering if you would maybe like to participate?
Me: Oh! I, uh, don't have time to do a blog tour and also I don't like blog tours. But I, uh, wish you, uh, the best of luck, uh, on everything!!!!
The above proves just how awkward I am.
There is also the part of me that just ignores whatever this person wrote for a few days until I can think of a response that is a nice, kind rejection. Instead of a big kick in the face.
Also!! I just want to make clear that it is 100% OKAY to say no. This is YOUR blog and YOU decide what you want to do with it. Don't let anyone (not even friends!!) pressure you into posting something you don't want to, or promoting something you don't feel like promoting. Saying "no" is absolutely FINEEEE.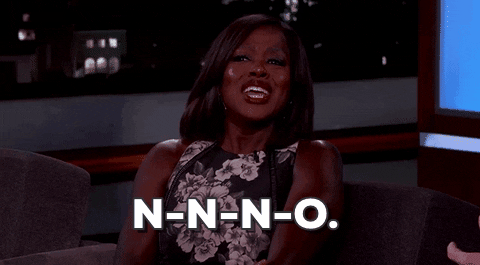 (I mean, just as long as you're not like, "NO. NO. WHY WOULD I EVER. YOU'RE HORRIBLE. I NEVER WANT TO TALK TO YOU AGAIN. NO.*)
*This is basically me @ myself. Honestly tho. Why am I like… me.
6. being nominated for tags/awards
Person: I've tagged you for this tag/award! Go check it out here if you're interested!
Me: Omg thank you so much, this tag looks super fun!!
Me inside: Wow. I will never get to this. I'm sorry you wasted the time it spent you to type "May @ Forever and Everly" as a nominee and notify me. Because I won't do it. I truly apologize.
Honestly, it is SO SO awkward when people tag me for things, because I KNOW that I won't be getting to them. I mean, if it seems interesting enough, I'll probably do it?
But I generally don't do a lot of tags! I just don't find them as fun to do, personally, and I have other posts I'd rather write, especially since I've cut down from 12 posts to only about 9 posts a month.
Truly, I am very appreciative and grateful that people tag me for things, because WOW I'M COOL AND PEOPLE AWARD ME STUFF????? It's just a commonly accepted fact* that I probably won't get to it.
(But please don't stop tagging me. I love being validated and seeing that my mind control is working OMG WHEN DO YOU START COLLECTING THE MANGOES FOR ME. I also might find the tag/award you did interesting enough for me to actually do it!!!!**)
*Commonly accepted by 100% of the population. Population being me, myself, and I.
**Not that… other tags or awards… aren't interesting… COUGH.
7. commenting on old posts / replying to old comments
Person: *has posted a post/comment about 48201957 years ago*
Me: Omg I'm so sorry I'm so late in commenting/replying!! I'm such a horribly irresponsible person aghaghg.
It's so AWKWARD when I'm behind on all the posts of the blogs I'm following so I'm just like "well hi there I'm so behind on commenting oopsies!!" Or I haven't commented on one blog in a long time and then I'm just like "WELL HELLO. I kind of forgot you!!!"
Or replying to old comments. Which was me yesterday as I replied to comments from a week ago because even though I take a week off of posting, I STILL !! MANAGE !! TO !! PROCRASTINATE !!*
*Am I writing this post Friday night, at 11pm, a few hours before it's supposed to go up??? Hahaha NOOooOooOOOOOoo.
8. replying to not-spam comments put in spam
Person: Oh wow, your writing sounds so cool! I'm working on my own novel right now, and it's a mix of poetry and contemporary and it's super fun. I wish you the best of luck with your WIP!!
Me: …Why was this put in spam??? WordPress is such an IDIOT omgggg.
Honestly?? WordPress is so stupid sometimes. Like the most genuine comments will be put in spam… for no reason??? And then I have to check my spam folder constantly so that I won't be too late in replying and look extremely awkward.
9. COMPLIMENTS
Person: Your blog is amazing and pretty and you're so amazing and hilarious and you're one of my favorite bloggers and I love you so much and you're just a blessing to us all and I can't believe such a person could exist wow I'm honestly in awe???
Me: FJSDLKFJASLD AJDSFLKA. JFSLKJ!! JDLFJAW JWELDIAPOT SJWEOPLDUWOE JWQD. HTWOSKF WUTOS!!! RJWOI JSLAUE?? FSOUEWTELQ PASL EH?? TYWOSKAHPAOTWUE!!! 💕💞💓💗💖💘💝
Listen. Mean comments I can handle. I'll get angry at them, write a comment that I won't post, then reply to them later when I've calmed down (a little bit). I'll rant. I'll defend myself. I'll roast them, if I have to.
(I always have to.)
But compliments?? Nice things?? Kind sweet beautiful things that I don't deserve to be on the receiving end of??? HOW DO I RESPOND TO THAT.
When someone compliments me, I reply with one of these three:
THANK YOU SO MUCH OMG!!! 💕💞💓💗💖💘💝
Asdlfja;sdlfkjasl;dfk thank yoooooou!! 💕💞💓💗💖💘💝
Omg you're too sweet!! 💕💞💓💗💖💘💝
Or a combination of both. (AS;LFJALSKDF THANK YOU SO MUCH YOU'RE TOO SWEET!!! 💕💞💓💗💖💘💝)
I just DON'T know how to respond. People are way too nice??? It's so awkward?? Like I loooove them for being so sweet to me but at the same time… halp.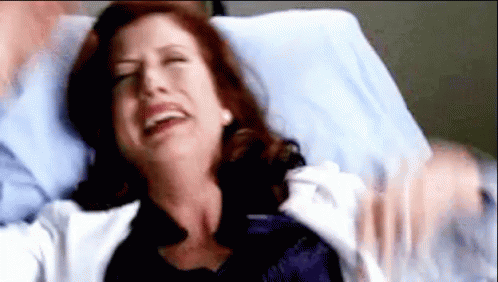 ---
what are some awkward blogging interactions you've had? add to my list! have you found yourself in any of these situations? do you hate promo comments? how do you deal with awkwardness? spill your secrets!!! (i need all the help i can get)