There are only three things I like analyzing: 1) goals, 2) food, and 3) books.
Y'ALL I'M SO EXCITED FOR THIS POST YOU HAVE NO IDEA HOW LONG I'VE BEEN WAITING TO DO THIS IT WAS SO MUCH FUN TO WRITE.
I'm sorry for being cringy but I rEALLY LIKE READING STATS OKAY.
I really love analyzing my reading stats, so today, I'm talking about my year of 2017 through BOOKS, aka my favorite things ever. It's a HUGE post (because I had too much fun to stop), but hopefully you enjoy reading it as much as I did writing it???
I'M SORRY. I'M JUST SO NERDY.
This is my LAST POST in my mini-series "Goodbye 2017", and if you click on those words, you can read ALL the posts in it! (Because linking them all is tiring and I'm lazy.)
I'm going to be participating in a SUPER COOL link-up, the 2017 End of Year Book Survey by The Perpetual Page-Turner!! except, because I'm horribly unable to follow the rules a rebel, I won't be doing all the questions & adding some (like one) of my own.
also, just a note that the books aren't in any particular order except for the order that I read them throughout the year!!!
QUICK STATS FOR 2017
Number of read books: 100 books!!
Average rating: 3.705 stars (yes, I did the math. appreciate me)
Pages read: 36,330 pages
BEST BOOKS
Also, just to clarify, some of these were published before 2017, but 2017 was when I read them SO THEY COUNT. And one was a reread but I literally do not care so there you go.
I didn't rate THUG 5 stars like the rest of these, but it is SUCH an important book so I feel like it deserved a spot. (It was literally 4.5 stars.)
**Benjamin Alire Saenz did something recently that I really don't approve of sooooooo. Just a disclaimer.**
**And by Six of Crows as a favorite, I mean BOTH Six of Crows and Crooked Kingdom BECAUSE THEY'RE EQUALLY AMAZING.**
WORST BOOKS
Oh, I LOVE talking about bad books! Please note, you may like these books and just because I hate them doesn't mean I hate you or am attacking you, blah blah blah.
(Also that cover is Shatter Me is UGLY AS HECK, but that was the edition I read sooooo. But I mean, pretty cover or not, Shatter Me is trash.)
DISAPPOINTING BOOKS
THERE WERE SO MANY DISAPPOINTMENTS I'M GOING TO SCREAM.
Here's my Disappointing Reads Goodreads shelf if y'all want to check it out, and then here are my TOP disappointing books of the year that ended up being actually bad. (Whereas some I just thought I'd like more but I didn't.)
BEST IN SERIES
best series started!
The Great Library series: The fourth book comes out in summer 2018, I believe (not sure if it's the last one), but this is such an AMAZING underrated series that everyone should be scrambling to check out right now!!!
The Illuminae File series: OBSIDIO, THE LAST BOOK, COMES OUT IN MARCH 2018 AND I'M SO EXCITED FOR IT AND I'LL PROBABLY READ IT IN APRIL OR SOMETHING BUT I'M SCREAMING IT'S GOING TO BE SO GOOD I CAN FEEL IT. Also these are one of the most mind-twisty books you'll read.
best series conclusion!
Is it any surprise that these are two Schwab books and one Bardugo book??
A Conjuring of Light: Brutal, beautiful, and heartbreaking. SUCH a great conclusion to the series and written so beautiful that I just !!!! The ending made me FEEL SO MANY THINGS AND I JUST JFLSDJLFASJDF.
Our Dark Duet: Again, brutal, beautiful, and heartbreaking!! This one was much darker than the first book and I LOVED IT SO MUCH MORE (if possible). The ending had me shocked & heartbroken but it was the perfect ending. (Maybe.)
Crooked Kingdom: So this was a reread, but it is STILL ONE OF THE BEST CONCLUSIONS I READ!!! Arcs are wrapped up, but still vague enough that each character has something to do after the book. My ONLY complaint is a certain character's death but. I'm too busy crying.
NEW FAVORITE AUTHOR
Y'all it's DEFINITELY Victoria/VE Schwab. I've read most of her books and adored them all. While I sometimes struggle with her writing voice, her books are BEAUTIFUL and tear-jerking and fajlsd;fjalsdfj I LOVE THEM.
FAVORITE BOOK COVERS



I'll let the covers speak for themselves. Except I must say that literally all of these are 4 to 5 stars, except for freaking AN ENCHANTMENT OF RAVENS.
(Also isn't it quite strange that my three ARCs are included in this… I HAVE GREAT TASTE, WHAT CAN I SAY.)
MOST BEAUTIFULLY WRITTEN BOOK
Okay, this has to go to Starfish by Akemi Dawn Bowman. (Just a note that it's been getting some VALID criticism lately—I recommend reading this wonderful review by Elise—and it's definitely something I missed.)
And even if there are other amazing writers like Anna-Marie McLemore, and there have been problems with the abuse rep, I cannot and will not deny how much this book means to me as an Asian reader. This book probably has the best representation of myself as an Asian, and that means so so much to me.

MOST THOUGHT-PROVOKING BOOK
Definitely The Hate U Give by Angie Thomas!! I knew that police brutality happened in America, but I had no idea to what extent it went to. This opened my mind to how bad racism against blacks in America is, and I will never forget that.

OTPS OF THE YEAR
(if you consider ships in a book to be a spoiler, please skip this section!)
Ari x Dante from Aristotle and Dante Discover the Secrets of the Universe // MY TWO SOFT PURE LATINO GAY BOYS I LOVE THEM SO MUCH.
Simon x Blue from Simon vs. The Homo Sapiens Agenda // I can't give the real name of Blue because it's a spoiler but I LOVE HIM SO MUCH AND I LOVE SIMON SO MUCH AND THEY'RE PERFECT TOGETHER.
Wolfe x Santi from Ink and Bone // Y'all, their love for each other is SO BEAUTIFUL and they'd literally die for each other and I just !!!!! COUPLE GOALS TBH.
Rhylucard / Rhys x Alucard from A Gathering of Shadows // Yes, this is another gay ship, no, I do not care. These two are so PURE and sassy with each other and perfect for each other uggghhhh.
Percy x Monty from The Gentleman's Guide to Vice and Virtue // Um, oops, another gay ship found its way onto my list?? But even tho Monty is literally the most insufferable person to ever exist and he doesn't deserve Percy… I LOVE THEM.
Nick x Charlie from Heartstopper // I SWEAR I didn't mean this to become a Gay OTPs of the Year list but IT'S OKAY. I LOVE ALL MY GAY SHIPS. This one is so beautiful and cute and fluffy and we actually get to see them drawn out and kissing and !!!!
And finally…
EVERY SINGLE SHIP FROM Six of Crows, including Kanej (Kaz x Inej), Nina x Matthias, and Wesper (Jesper x Wylan—a gay ship). Bardugo builds the relationships SO BEAUTIFULLY and makes every moment special and jfkljslfjsldjf MY HEART.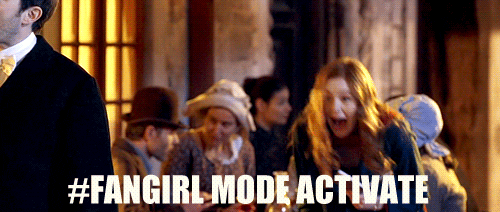 BOOKS THAT MADE ME NEARLY CRY
Luckily for me, I didn't cry over any books this year!!! (Y'all, I've only actually cried over like four books.) But I DID tear up over some:
The Serpent King: The first sad part was more like a HUGE shock to me, but the ending made me tear up so many times. Also I think this was also due to the fact that it was 1 am and I was on my period. So.
More Happy Than Not: Y'ALL. THIS ENDING. OH MY GOD. It was so heartbreaking and beautiful and fjalskdjflksda OF COURSE Adam would do this. And how misleading is that title??? I am very much LESS happy than not???*
The Hate U Give: So my tears over this one were less of "I'M SO SAAAAAD" and more like "I'M SO MAAAAD". There was one conversation between Starr and her dad, and I got SO FRUSTRATED that I cried (aka teared up). That's a good book right there.
The Hearts We Sold: The ending TORE ME APAAAAART. It was so beautiful and a fitting ending, but I just. WHY. WHY. (But tbh what happened seem like something I'D do, so I don't know what that says about me.)
Crooked Kingdom: I've reread this certain scene so many times and even tried to force tears to my eyes to seem less heartless (IT DIDN'T WORK). But this time I teared up like four times. Once when I saw the chapter, another time when it was happening, and then twice after *IT* happened. Ugh. Why. WHY.
*That didn't even make sense.
HIDDEN GEMS
Ink and Bone: SUCH A GOOD BOOK & SERIES. It's a fantastic mix of fantasy, dystopia, and historical fiction*, and the characters are so EFFORTLESSLY diverse and it's absolutely amazing!!
Bone Gap: This is one of my favorite magical realism books. It's written beautifully and the whole story just pulls you in. The writing is so engaging and the characters are so well fleshed out!
Asking For It: This book is probably one of the realest, most brutal stories about rape culture??? It's so beautiful and raises SO many questions in readers' mind about whether rape victims are asking for it (spoiler: THEY AREN'T), and it's written beautifully.
Highly Illogical Behavior: This is just SUCH an amazing and heartwrenching book??! It's about agoraphobia (which I've read a surprising amount of books on this year) and I think it is tackled so beautifully.
*Okay so it takes place in the future BUT IT FEELS SO HISTORICAL OKAY PLEASE READ IT.
BOOKS THAT CRUSHED MY SOUL
Well.
BOOK THAT MADE ME MAD
The Nowhere Girls by Amy Reed made me SO. EXTREMELY. ANGRY. with the world and how incredibly sexist it is??? There were some blog posts written by a man who said absolutely disgusting things about women, but the sad thing is that it's a belief that some men actually hold.
You can read my review of the book here!!
(The Hate U Give also made me really angry as well.)
#1 PRIORITY BOOKS TO READ IN 2018
The first four of these are the ones I got from December's book haul, and the last four are ones that I didn't get a chance to read in 2017 but I NEED to!! (But please know that I have so many books I need to read that I didn't so…)
MOST ANTICIPATED 2018 RELEASES
THERE ARE SO MANY GOOD BOOKS COMING OUT IN 2018???? How am I supposed to just choose a few. Ugh ugh uhhgguhghg.
(These are in order of release date!)
What are those three blank covers?? Well, I guess you HAVE TO CLICK ON THEM TO FIND OUT. (I'm sorry, I'm the kind of person who finds these things fun.)
PIE GRAPHS!!
And now for my favorite part, PIE GRAPHS!!!!
I didn't keep a spreadsheet of everything in 2017, because it wasn't until a little later in the year that I REALLY got more "serious" about reading. So I wasn't able to get all the stats I wanted. But I still got a few interesting ones so I'm excited about that!!!
What's nice about reading 100 books is that whatever % it is, that's the number of books I read!! For example, 4% of something means I read 4 books of that. (Except for a few circumstances.)
So 2017 was the year that I started reviewing books, but that wasn't until like halfway through the year. SO! I had a lot of VERY lenient ratings, and as the year went on, I got harsher & more critical. Basically—these ratings are not very accurate.
And you can see JUST how many books I get from my library. I literally purchased THREE BOOKS from my own money this month. This is why 1) LIBRARIES SHOULD NOT BE SHUT DOWN, and 2) I feel really bad for readers living in non-English speaking countries.
So you can't really tell what the exact numbers are (I made a pie graph but then iT GOT SO TINY AND YOU COULD BARLEY SEE IT). But I'm really surprised that contemporary was my most-read genre??? I'm more of a fan of fantasy, but it's cool! I do love contemporary as well.
Also some genres overlapped soooooo.
In 2017, I didn't really 1) actively search for representation, just read whatever I wanted, and 2) didn't really keep track of what rep or diversity there was. So I might've forgotten some books, since I went back and marked books as "diverse" in December!
But I'm sad that only 55/100 books I read were diverse?? That is NOT how the world is at all—the fact that white, straight, cisgender characters made up 45% of the books I read versus 55% of ALL other races, sexualities, and genders is very discouraging.
And then, out of those 55 diverse books, the second pie graph shows what was represented!! Again, some of these overlapped (which is VERY GOOD).
The diversity pie graph should be 100% diverse, 0% not diverse. The types of rep graph should be split 25% for each type. The world is diverse, full of all kinds of people. Books need to reflect that.
---

this was a SUPER long post but hopefully you enjoyed?? what were some of YOUR fav / least fav books that you read in 2017? disappointments? pretty covers? any OTPs? what books are you planning to read this year? and are you obsessed with reading stats like me????