I really thought I could stay strong and keep the tears in… but I couldn't.
Darius the Great is Not Okay was a book that sucked me in from the beginning and kept me in its grip the entire time. It captivated me so much that it even made me cry, which, if you know me, is no easy feat when it comes to books.
Today for my stop in the Darius the Great is Not Okay blog tour, I'll be doing a review of the book! I was super excited when I was offered this opportunity because this book is one that I've been anticipating so much—and if you haven't already added this to your TBRs, you NEED to.
Thank you to Penguin Random House for providing me a copy of the book in exchange for a spot on the blog tour and promotion of the book!
Adib Khorram, publishing August 28, 2018
★★★★★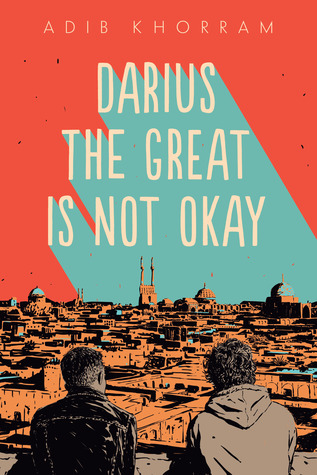 Darius doesn't think he'll ever be enough, in America or in Iran. Hilarious and heartbreaking, this unforgettable debut introduces a brilliant new voice in contemporary YA.
Darius Kellner speaks better Klingon than Farsi, and he knows more about Hobbit social cues than Persian ones. He's a Fractional Persian–half, his mom's side–and his first-ever trip to Iran is about to change his life.
Darius has never really fit in at home, and he's sure things are going to be the same in Iran. His clinical depression doesn't exactly help matters, and trying to explain his medication to his grandparents only makes things harder. Then Darius meets Sohrab, the boy next door, and everything changes. Soon, they're spending their days together, playing soccer, eating faludeh, and talking for hours on a secret rooftop overlooking the city's skyline. Sohrab calls him Darioush—the original Persian version of his name—and Darius has never felt more like himself than he does now that he's Darioush to Sohrab.
Adib Khorram's brilliant debut is for anyone who's ever felt not good enough—then met a friend who makes them feel so much better than okay.
Adib Khorram is an author, a graphic designer, and a tea enthusiast. If he's not writing (or at his day job), you can probably find him trying to get his 100 yard Freestyle (SCY) under a minute, or learning to do a Lutz Jump. He lives in Kansas City, Missouri. This is his first novel.
Darius the Great is Not Okay was an absolutely amazing book for me. It actually made me cry (which I say doesn't happen often but is not happening more and more frequently??), I saw myself so much in Darius, and each time I put the book down I just wanted to pick it back up and read more.
Darius the Great is Not Okay is about a boy named Darius, who has never really been in touch with his Persian identity until visiting Iran—and his family—for the first time. It's about family and friendship and mental health and learning to be okay with not being okay. It's about finding who you are and making connections with other people and it's just overall a beautiful story about a boy coming to terms with himself.
I have to say: it is honestly, truly one of my favorite contemporaries of the year. And it is honestly, truly unforgettable.
The book quite character-driven, as it's focused on Darius' development, and I REALLY loved it. Darius is such a sweet, lovable character, and you can't help but get attached to him and root for him throughout the book. What he feels, you feel (and I lowkey almost hate that because I ENDED UP CRYING).
The writing is super easy to read, enjoyable, and engaging. Darius' voice is really hilarious (and, again, almost reminds me a little of Alice Oseman's writing voice?) and I felt compelled to pick the book back up right after I put it down.
One of the things I loved most about this book was the depression representation, which was… absolutely amazing. Granted, I haven't seen a LOT of depression rep in books, but this is definitely one of the best representations I've read.
While it didn't capture my experience exactly, it did highlight just exactly how depression can turn you against yourself without you realizing it, and how it's okay to not be okay. One of my favorite things about the rep is that it shows the "subtlety" (if you could call it that) of depression. Sometimes it's not a huge thing looming over you; sometimes it's just a collection of moments that build up until you can't take it anymore.
Also, so many struggles with his Persian identity were struggles I could relate to, though of course with my Thai identity. There are really specific connections to my own family, but there were also more general ones, like not being able to communicate as much with grandparents, or feeling awkward with them, or not knowing things about your culture that you feel you should already know.
AND OF COURSE. Darius loves Persian food as much as I love Thai food, which I find, for some reason, hilarious??? (Every person of color just loves their food. They can't not love it.)
Speaking of food: Tea is a very important aspect of this book! Darius' family makes a lot of tea and Darius himself loves making it, and it was a cute little addition to the book, as well as being one of the things that connected Darius to his Persian identity before visiting Iran.
Another of my favorite aspects of this book was how it explored the themes of family and friendship. Family was SO important in this book, especially since it's directly connected to him getting in touch with his Persian identity, and it's really beautiful to see him bond with these people he'd only ever been able to see on Skype.
And while Darius does get to know his grandparents and aunts and uncles, he ends up also growing closer to his dad, who he hasn't been on really good terms with. It was honestly so beautiful to see their relationship developing, especially because they also talked about depression (which his dad has as well!).
And finally, about friendship… The friendship that rose between Darius and Sohrab was SO GOOD. I'd originally thought this was an m/m romance between the two of them, but it wasn't, and I'm kind of glad? Because 1) it emphasizes that queer people don't have to be in a relationship to be queer or queer enough and 2) FRIENDSHIP IS SO IMPORTANT.
Sohrab is really Darius' first friend, since he never really fit in at school and always got bullied, and he helps Darius realize that who he is is okay, that the different parts of himself aren't bad or things to be insulted. And it was just so beautiful to see these two soft boys BE SO SUPPORTIVE of each other and I loved it.
At this point, I truly have no idea what else I can say to make you read this book besides this: IT MADE ME CRY. I mean, crying has been happening more often with books now, but it's still not a common thing and that should tell you just how emotionally powerful this book is!!!!
READ THIS BOOK. PLEASE. It is just a beautiful story that will stay with me for a long time, from all the rep I related to so much, to the relationships that bloomed, to the engaging writing and the lovable characters.
:: rep :: fat biracial Persian (Iranian, white) gay MC with depression, major Persian (Iranian) Baha'i side character, major side character with depression, multiple Persian (Iranian) side characters,
:: content warnings :: depression, racist comments (challenged), fatphobic comments (challenged), comments criticizing depression (challenged)
---
are you planning on reading this? (PLEASE DO) recent books that made you cry? do you recommend any books with good mental illness rep? and DO YOU LIKE TEA??? (I personally don't drink it often but I'll take it over coffee any day)