You know those books that you're so full of love for that you just feel like you could burst?
Girls of Paper and Fire is one of those books. It's an absolutely beautiful book, with the best themes and messages. It has a stunning cover, a gorgeous romance, and an intricately crafted world.
But while I love it for all of that, I love it for so much more: the fact that it's a story about two queer, sapphic Asian girls, fighting against all odds for themselves and for each other. And as a queer, sapphic Asian myself, this book means so much to me.
Natasha Ngan || November 6, 2018
★★★★★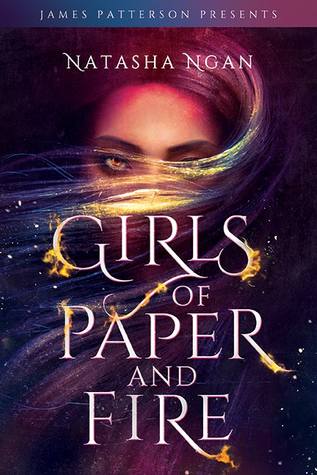 Each year, eight beautiful girls are chosen as Paper Girls to serve the king. It's the highest honor they could hope for…and the most cruel.
But this year, there's a ninth girl. And instead of paper, she's made of fire.
In this lush fantasy, Lei is a member of the Paper caste, the lowest and most oppressed class in Ikhara. She lives in a remote village with her father, where the decade-old trauma of watching her mother snatched by royal guards still haunts her. Now, the guards are back, and this time it's Lei they're after–the girl whose golden eyes have piqued the king's interest.
Over weeks of training in the opulent but stifling palace, Lei and eight other girls learn the skills and charm that befit being a king's consort. But Lei isn't content to watch her fate consume her. Instead, she does the unthinkable–she falls in love. Her forbidden romance becomes enmeshed with an explosive plot that threatens the very foundation of Ikhara, and Lei, still the wide-eyed country girl at heart, must decide just how far she's willing to go for justice and revenge.
Thank you so much to Jimmy Patterson books for a copy of the book in exchange for an honest review! This did not affect my opinion in any way.
All quotes were taken from an unfinished copy and may differ in final publication.
 I don't want an easy life. I want a meaningful one.
I don't think I can ever describe just how much this book means to me, but as soon as I'd heard that this book actually existed, I knew I needed it in my life. And I'm so happy that it's getting all the hype, because this book is gorgeous and beautiful and a story we all need to read and listen to.
In this world called Ikhara, there are three castes, and a Demon King who rules them all. There's Paper: the lowest caste, fully human, with no animal-demon features; Steel: humans with partial animal-demon features; and finally Moon: the highest caste, fully demon, with complete animal-demon features.
Each year, the Demon King rips eight Paper girls from their homes and takes them to be his concubines. Everyone tells the girls it is an honor to be chosen for this life; some believe that, some do not. But no one has ever stood up to the King before without facing cruel punishment.
Lei has everything to fear in going to the palace. Her mother was taken similarly years ago, and no matter the amount of people saying that it's a privilege to be chosen as a Paper girl and she should be grateful for it, she still dreads meeting the King, living in his palace, and leaving behind her father.
Still, she readies herself to submit in order to survive—a sad reflection of what happens too often in today's world—until she meets another Paper girl named Wren, who gives her hope of a better life.
Lei's story takes some time to build up in the beginning at first, since her motivations and goals as a character aren't quite clear yet. I'll completely admit that I wasn't as engaged in the beginning as I wish I could've been. But once that drive was initiated and the plot got moving, it was so easy to get into the book and be swept up in this unforgettably brutal yet beautiful story.
 "Our lives here are defined by others, every decision made for us, every turn of fate pushed by the hands of others. But you stood up and said no. Even though you knew what it would cost you."
One of the most beautiful things about this book is the way it tackles oppression. It's a story all about oppression, in social castes/classes, appearance, and most of all, sexual abuse and rape. It is so accurately portrayed that rape is about power, and control, and entitlement, and never about sex or desire.
The Demon King feels entitled to the girls he seizes, and what he takes from them he takes because it makes him feel power over them. It's not hard to believe and scary how closely resembling this is to our world today.
But it's not only a story of oppression, but about overcoming it too. One of the most powerful things a survivor can do is to step up and tell their truth, and this is a story of survivors finding the voice to speak up for themselves. It's about knowing your worth and reclaiming it when someone forces you to think you have none. It's about knowing that you are worth more than the beliefs of people who follow power without recognizing or choosing to see its horrors.
It's about knowing that no matter what, you are worth everything—the fight, the right to your own self, and the love.
And speaking of love, the love that Lei and Wren have for each other is so beautiful and so pure and so delightfully sapphic. It's slow-burn, soft, and everything I wanted. Their relationship means so much to me, as a sapphic Asian myself, but even more, these two queer Asian girls fall in love in a world that will do anything to wrench them apart.
Seeing them fight for each other, reclaim themselves with each other, and become stronger because of each other—it means the world. They are the girls I never get to see represented in books, and they are the girls who gave me the representation I needed.
 Her kisses heal the part of me that the King broke. They tell me: You are strong, Lei. You are beautiful. And, always, most important, you are yours.
Of course, the themes and messages and romance have a huge hand in how beautiful this book is, but there's also the fact that this writing is just gorgeous, and the world that Ngan has crafted is absolutely stunning. Reading this was like reading a love letter to Asian culture—the food, the clothing, the people. It was like returning to home, to a place of comfort, to family in Thailand and all the best Thai food.
Though this book is a beautiful must-read in my eyes, it is absolutely necessary that you be prepared for the heavy content. Huge huge content/trigger warning for rape, sexual abuse, physical abuse, and violence in general. It's a quite heavy book to get through, and I can recall at least one scene that was graphic and very difficult for me to read. I recommend this book with my whole heart but please make sure you are in the right headspace! [More content warnings at the end of this review.]
Also, if you're reading the ARC, content warning for aro/acephobic language. The author has confirmed this will be removed in the final copy (which is great!), but it is still in the ARC so take care!
 When the world denies you choices, you make your own.
Despite the heaviness of this novel, and the slightly slow start, this is without a doubt one of my favorite books of the year and a book I will never cease to stop recommending. The story of two queer Asian girls unwilling to let anything get in between them means the world and more to me, and the book as a whole is a gorgeous voice for all Asians, queer girls, and those who keep fighting even when everyone tries to push them down.
:: rep :: entirely Asian cast (including Southeast-Asian-inspired, East-Asian-inspired, and South-Asian-inspired ethnicities), sapphic Asian female MC, sapphic Asian female LI || ownvoices for Asian, queer, and sexual abuse survivor rep
:: content warnings :: rape, attempted rape, sexual abuse, physical abuse, death, abduction, torture, violence, loss of loved one, scenes with blood, grief depictions, aro/acephobic language (unchallenged)
---
are you planning to read this book?? (YOU BETTER) do you have any recommendations for books with queer people of color? what brutal but beautiful books have you read?? favorite book with an asian MC?? hit me w/ all the recs!