Hi I'm May! And if you don't know, I'm self-destructive!
When it comes to books, specifically (because I could talk about how I'm self-destructive in my personal life but I'd rather not*): I love to read books that destroy me. But it's more like, I know full well that it will break me, refuse to believe it, and then get surprised when it destroys me.
The Fever King is a perfect example of that. I'd read reviews of how much pain the readers felt because of this book, and I was like "wow, that's going to happen to me". But there was also another part of my brain that for some reason believed I would be different.
Beloved ones, I was not.
Fortunately!! I still feel a huge amount of love towards this book, despite all the pain and suffering Victoria Lee has caused me, so today, exactly 10 minutes before its release date (in my timezone), I'm here to gush about it and convince you to pick it up!
*Prime example of be being self-destructive by avoiding important topics that I should probably talk about!!
Victoria Lee, publishing March 1, 2018
★★★★★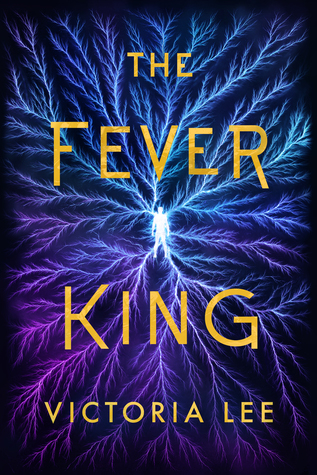 In the former United States, sixteen-year-old Noam Álvaro wakes up in a hospital bed, the sole survivor of the viral magic that killed his family and made him a technopath. His ability to control technology attracts the attention of the minister of defense and thrusts him into the magical elite of the nation of Carolinia.
The son of undocumented immigrants, Noam has spent his life fighting for the rights of refugees fleeing magical outbreaks—refugees Carolinia routinely deports with vicious efficiency. Sensing a way to make change, Noam accepts the minister's offer to teach him the science behind his magic, secretly planning to use it against the government. But then he meets the minister's son—cruel, dangerous, and achingly beautiful—and the way forward becomes less clear.
Caught between his purpose and his heart, Noam must decide who he can trust and how far he's willing to go in pursuit of the greater good.
Thank you to Amazon for a copy of this book in exchange for an honest review! This did not my affect my opinion in any way.
All quotes are from an advanced copy and may differ in final publication.
The thing about The Fever King is that it's about so many different things that it's just truly indescribable.
It's about a virus that has taken so many innocent lives, yet has become a magical blessing for those who survive it. It's about moral ambiguity and deciding what's right and wrong for you but also for everyone else. It's about identity, and trauma, and finding your place in a world that is always changing.
It's about a boy named Noam, and a boy named Dara, and what they must do to keep living in a world that demands more from them but has only given them pain.
(And it's also about the horrendously, achingly, painfully slow slowburn romance that blossoms between them but that's not the point!!)
 The void from earlier was back, yawning wide in Noam's chest. Dara felt it too, he thought. Dara might not have lost his family, but he had that same hole inside him. They matched.
I think the most striking aspect of this book, though, is not its captivating narrative, or its impressive writing style, or its intriguing setting—rather, its intricate, carefully written portrayal of the complexities of its characters.
All of these characters are, arguably, morally ambiguous. They are figuring out where they belong in the world, or in some cases, have already decided it and are acting upon it. They've all faced trauma, personal and intergenerational, and it's affected them all differently. The nuance that which this pain is written with is done so carefully.
Noam: a bisexual biracial Latinx/white Jewish teenage boy who survived a virus that took his family, friends, and fellow refugees, and gained the magic of technopathy from it. an activist for immigrant rights, and a sweet, soft boy who is too strong for his own good
Dara: a gay Jewish POC celebrity son of the minister who is as much of a jerk as he is alluringly mysterious. also my son who has been through too much suffering and deserves some semblance of happiness!!
Lehrer: the queer Jewish minister of Carolinia who's been alive for who knows how long, who I secretly or not so secretly hate
More so, the gay slowburn romance that blooms in this book is just absolutely thrilling. Thrilling, in the please-kiss-already and why-does-this-hurt-so-much and I-have-never-been-more-terrified-for-two-people way.
(stunning art by @bbonsbonss)
While I will admit that I took some time to get into this book, once I was immersed in it, I was immersed. The story moves at just the right pace, keeping you on your toes and anxious for what's to come, but still keeping you engaged in the present. It only helps that Noam's voice is such a delightful perspective to read from.
Not only is this an enjoyable, exciting story to read, however, it also tackles important issues such as immigration. Some readers have been angered by the inclusion of this, as well as the simple existence of queerness, and believe the book would be better without those subjects. But I would argue that this book is stronger with these political themes, and the existence of these characters are inherently political because of the people who don't want them to be included.
Nevertheless, I found the discussion extremely important and well-written, and it did not take away or distract from the narrative, only added more to it. As a queer child of immigrant parents, I related deeply to the threads of queerness and immigration woven throughout the book, and I am grateful they were included.
 That was the whole point. Governments didn't have to listen to the people until the people made it hurt not to listen.
Quite honestly, this whole book hurts, because it seems like seeds of pain are sowed in just when you think you'll be okay, but the ending of this book for sure overpowers it all. I won't say much, because I think you all deserve to suffer like I did, but I will say this: it is shocking, it is the ending you wish wasn't perfect but kind of is, and it will absolutely destroy you.
On that note, my initial reaction upon finishing this book was: hello, 911? yes, I'd like to report this book for making me want to kashoot myself. Frankly, I think that reaction still stands. There are so many things this book makes me want to "kashoot myself" over, from the characters to the romance to the discussion of political issues, but I would still want to read it all over again.
If it isn't obvious, I truly adored this book and found it not only powerful, but enrapturing and enjoyable as well, and the amount of appreciation I have for it has no end. If you're looking for gay, moral greyness, and a soul-crushing, heartbreaking book, this one's for you.
P.S. I highly recommend giving this author interview a read, as well as the extremely heartfelt letter the author wrote about why she wrote The Fever King and how her real-life experiences are reflected in this book!
:: rep :: biracial (Latinx, white) bisexual Jewish MC, gay POC Jewish LI, queer Jewish major character, all-queer cast
:: content warnings :: violence, intergenerational trauma/genocide, murder, abuse, sexual abuse, statutory rape, parental death, death of a child, mental health and suicide, slut-shaming, ableist language, drug and alcohol abuse [more details here]
---
are you planning on reading this book? what other gay morally grey books have you read?? any fantastic slowburn romances you've read lately? also how are you all doing!!
p.s. if you noticed, I took a longer break from blogging than expected, due to some things that happened recently which I'll talk about in my upcoming recap, but I still wanted to make sure to get my review of this book up by/around its release date!
p.p.s. fun fact, this is my 200th post and I'm kind of in shock!