Another day, another sapphic book!
Last year, I fell in love with the YA fantasy Crier's War. It had everything I wanted in a book: slowburn enemies to lovers f/f, compelling characters, and absolutely stunning writing. I'm so excited to have been able to read the sequel Iron Heart and be reviewing it today! If you're eagerly awaiting this book after having read the first one, or interested in this series (especially with their gorgeous covers), I can guarantee you won't be disappointed.
Thank you so much to Shealea for making it possible for me to have received an ARC of this book and be a part of this blog tour!
There are no spoilers for Iron Heart in this review, and though I tried my best to keep every reference I made to the events of Crier's War vague, they may be viewed as spoilers, so take care!
Nina Varela || September 8, 2020
★★★★☆ [3.5]
An unstoppable love between two girls—one human, one Made—both set on destroying the Iron Heart.
For too long the cruel, beautiful Automae have lorded over the kingdom of Rabu, oppressing the humans who live there. But the human revolution is on the rise, and at its heart is Ayla. Once handmaiden, now fugitive, Ayla escaped the palace of Lady Crier, the girl Ayla had planned to kill . . . but instead fell in love with. Now Ayla has pledged her allegiance to Queen Junn, whom she believes can accomplish the ultimate goal of the human rebellion: destroy the Iron Heart. Without it, the Automae will be weakened to the point of extinction.
But playing at Ayla's memory are the powerful feelings she developed for Crier. And unbeknownst to her, Crier has also fled the palace, taking up among travelling rebels, determined to find and protect Ayla.
As their paths collide, neither are prepared for the dark secret underlying the Iron Heart.
In this stunning sequel to acclaimed author Nina Varela's Crier's War, the love that launched a revolution must now pave the way for a whole new era . . . and the ultimate change of heart.
Amazon – Barnes & Noble – Book Depository – IndieBound
Thank you to Harper for sending me a copy of this book in exchange for a spot on this blog tour! This did not affect my opinions in any way.
All quotes are from an advance copy and may differ in final publication.
ABOUT THE AUTHOR
Nina Varela is a nationally awarded writer of screenplays, short fiction, poetry, and novels. In May 2017, she graduated magna cum laude from USC's School of Cinematic Arts with a BFA in Writing for Screen & Television. Crier's War was her debut, and this is the sequel. She is originally from Durham, North Carolina, where she grew up on a hippie commune in the middle of the woods. She now lives in Los Angeles.
Website – Goodreads – Instagram – Twitter
Following the thrilling events of Crier's War, the sequel Iron Heart dives back into the story of Crier and Ayla, Automa and human enemies turned… something else. A war is brewing as rebellions and revolutions rise, and Crier and Ayla, along with other allies, must fight for a world where Automae and humans can coexist without one causing the pain of the other, or risk losing more than each other.
Crier's War saw beautiful writing, a slowburn romance, and riveting character arcs, and these are even more prominent in the sequel—I dare say they got even better. It's a solid conclusion to the series, as well as the intricate, emotional journeys of Crier and Ayla.
"Strength isn't measured by the ability to cause harm."
As in the first book, Crier and Ayla were such strong characters. I loved seeing Crier break free from certain restraints and expectations that had been placed on her, as an Automa, but also as the daughter of the sovereign. She still has the sweetness and innocence she had before, but now it has morphed into something more passionate and determined, funneled into a want to help humans after the horrors her Kind has inflicted upon them, and it was beautiful to see. 
I loved Ayla and her arc in this sequel so much, too. She spent her entire life with one goal in mind—revenge—but now she has to deal with the result of what she did (or didn't) do in the first book. She learns that there's no one way to fight, that there's no one way to be angry and strong and defiant, and through this realization, a softer, gentler side of her appears. One of my favorite things about sequels is that it allows characters the space to develop more into a rounded person, and that kind of growth was beautiful to see in both Crier and Ayla. 
I think the highlight of this book for me was Crier and Ayla's romance. I'm not usually one to care about romance this much, and it's definitely not the central focus of the book, but I loved it so much. They were slowly realizing that they didn't hate each other (even after certain events of the first book), and coming to terms with the fact that they felt so much for each other, all the while still trying to deny it. The yearning was just so, so good, and I died at least ten times reading certain parts. It is just so very gay, and I could not be happier.
"You want her. Or love her. Or at least something close. Something just as intense as your hatred."
Varela's writing in this book is simply delectable. I'd forgotten how much I loved each word that Varela crafts—all of them feel so meaningful and valuable, and paint such a lovely picture of the setting, the characters, and their emotions. It's elegant and fits the story so well, and it is so easy to devour and tempts you into reading more and more without you realizing. (Plus, the writing in some of the more romantic scenes made me lose my mind.)
Just as with Crier's War, the themes that Iron Heart dives into were explored and written so well. At the heart of it at all (no pun intended), the series to me is about what it means to be human, and where humanity starts and ends. It is a book about intolerance, division, and war, and though it wasn't sad, there were actually some parts that made me want to cry.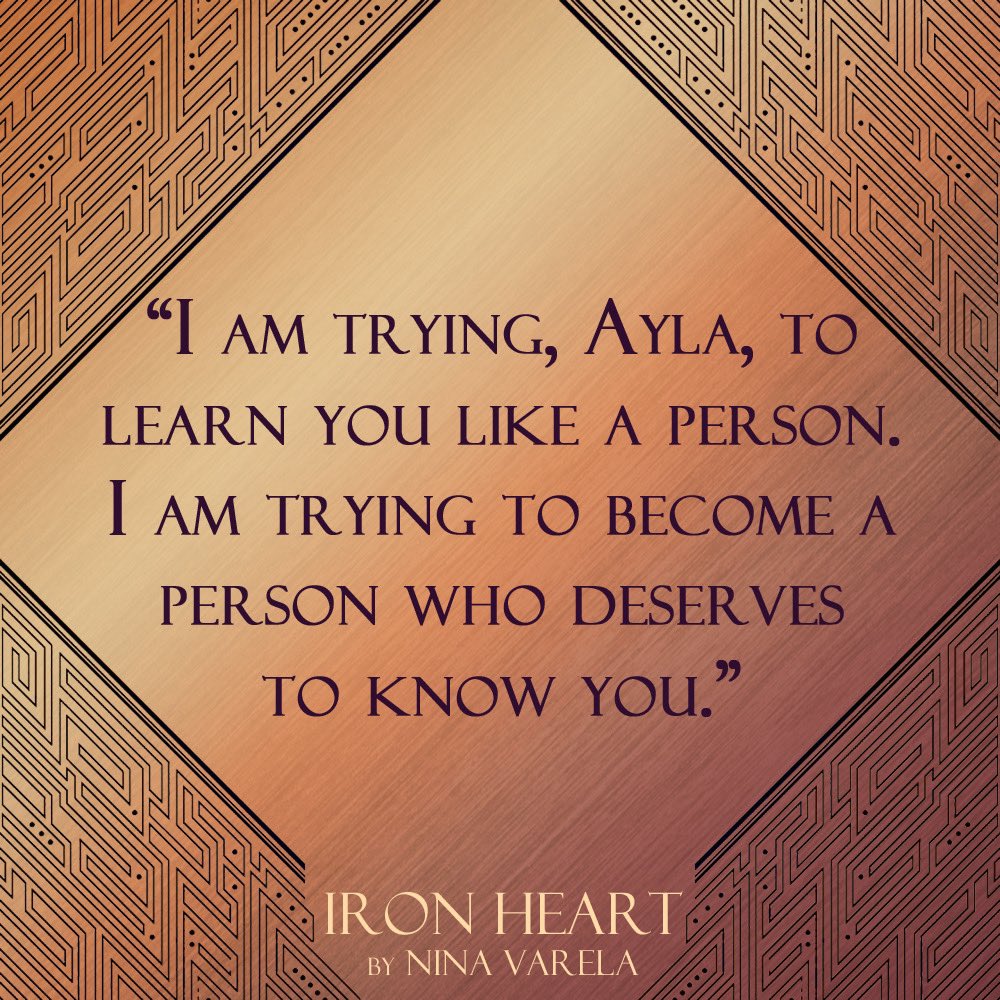 Even though I was physically reading it quickly and there were exciting scenes that keep me engaged, somehow the book felt like it was going by slowly. I also had a hard time with how some characters were introduced or included, but not much was explored with them, which was an issue I had with Crier's War too. Another minor complaint was that the last few chapters felt rushed and anticlimactic to me, and the ending was a bit abrupt even with an epilogue. All of these made me feel like I couldn't rate this a full 4 stars, but I really did enjoy this book, despite these small issues I had! 
Because it's you.
It's you, the wash of starlight, the old paradox: if the Universe were static, I could stand anywhere in this world and I swear my line of sight would end on you. I swear I'd find you in the dark.
While there were some things that didn't quite work for me with this sequel, it was not enough to diminish my overall enjoyment of and love for this book and series.  With truly gorgeous prose, an achingly heartwarming romance, and compelling characters, Crier's War and Iron Heart make an unforgettable duology. I am so excited to read all of Varela's future works: I just know they'll be as good (and gay) as this beautifully written series.
:: rep :: POC lesbian MC, POC bisexual MC
:: content warnings :: death/murder (of loved ones), violence, depictions of blood, use of drug-like substance, body horror [more details]
TOUR SCHEDULE
---
have you read Crier's War? are you going to? are you excited to read Iron Heart? what other f/f fantasies do you love? favorite duologies?