To seek escape from 2020, I found a lot of comfort in good books.
Granted, last year gave me my lowest average rating for books, which I'll be talking about in my end of year reading wrap-up next. But! Today is not for negativity! (I posted about my least favorite books of 2020 already—check out here.) Today, I'm only bringing positivity and talking about my favorite books of the year!
I am terrible and don't allow myself to truly love many books, but there were so many 2020 reads that I really enjoyed and wanted to highlight, even if I didn't love them enough to call them favorites. So in the post, you'll see my 7 honorable mentions (haha…), and my top 4 books of the year!! All of these books touched me in some way, and I would recommend all of them.
HONORABLE MENTIONS
I went into more depth on Goodreads about these books if you'd like to read more of my thoughts!
11. You Should See Me in a Crown: This book ended up being one of my biggest surprises of 2020! It sneaks its way into your heart and makes a home there without you realizing. It's the perfect mix of sweet and serious, with a balanced focus on self and family and romance, and I think it's the perfect feel-good book to pick up.
10. In Other Lands: Elliot is one of the funniest, most annoying protagonists I've read, and this is one of the funniest fantasy books I've read. The characters are what shine the most, and I fell in love with them—and the slowburn romance is delightful too. It does take on politics and war, but overall it just makes you laugh and feel warm inside!
9. The Bone Shard Daughter: This was such a unique fantasy and solid debut, and while it wasn't what I expected at all, that only made me love it more! I especially loved the exploration of politics, power, privilege, and classism. I loved all the characters and their arcs (especially an adorable pet), and the plot twists in this are absolutely excellent.
8. The Rise of Kyoshi: I enjoyed this book (and its sequel) so much, especially as an ATLA fan!! Kyoshi's growth and arc is the exact type of character work I adore—a character deemed as "nothing" becomes all-powerful—and it made me so emotional to read. Also, Kyoshi's relationship with Rangi is one of my favorite fictional relationships this year… they are so tender and so GAY!
7. Love From A to Z: I don't know how this YA contemporary romance stole my heart so much, but it really warmed my cold dead soul! Both the main characters' arcs are well-written and I love Adam and Zayneb so much (individually and together!). The book also has a great balance between romance, friendship, and other light-hearted things, and serious issues like Islamophobia and chronic illness.
6. Winterkeep: I'm truly in love with Cashore's writing and her ability to weave so much suspense and intrigue into every page! As always with the Graceling books, the depiction of abuse and trauma in Winterkeep is heart-wrenchingly well-done. The book also has a fantastic exploration of politics, corruption, and environmental issues, and overall it 100% lived up to my high expectations for it.
5. My Dark Vanessa: This is a very hard book to talk about because it was a very hard book to read, following an abusive relationship between a 15-year-old and her 42-year-old. But its portrayal of survival—surviving abuse and trauma, especially when you don't recognize it—is unflinching and doesn't shy away from the messier forms of coping, and it is so, so well-written.
This is truly one of the best YA fantasies I have read in a while, and there are so many things Jordan Ifueko has managed to do in this book that I am in awe over. I absolutely love the twists on regular tropes like the chosen one, love triangle, and found family, and both the platonic and romantic love in this made me want to weep (especially the platonic).
Tarisai's growth throughout Raybearer is absolutely phenomenal, and even with so much care with and focus on character development, the book is still packed with action, which was a surprise considering how well-paced everything was (for the most part). The worldbuilding and lore is delightful as well, especially with its themes of rewriting and hiding history in favor of men.
The sequel is going to be amazing, and I was so very impressed by how solid this novel was for a debut! If you're looking for a unique fantasy that deftly balances character work and an exciting plot, I really couldn't recommend this book more.
Representation: West African-coded MC, West African-coded cast, West African-coded biromantic asexual character, Indian-coded love interest, Korean-coded side character
Content warnings: murder/death, child abuse (neglect), violence, death of loved one
Upon opening this book for the first time, I thought, "Oh, this is going to make me cry, isn't it?" (And it did.) From the very first page, you have a feeling that it will be a beautiful, tender story, and it is. This is a YA graphic novel that follows a young boy named Tiến, who is struggling to tell his mother he is gay because he doesn't know how to tell her in Vietnamese.
The story is told in Tiến's present, his mom's past, and also through Western and Vietnamese fairy tales that are __ tied back to the experiences of these real-life characters. The timelines are represented in different colors, and the art is so, so soft and lovely. It really is like a warm hug to read this book—it is so imbued with the feeling of home.
The importance of language and the limiting nature of language barriers, specifically with second-generation immigrants, also deeply resonated with me as a second-gen struggling to learn my parents' language. And while, obviously, I couldn't relate completely to Tiến and his experiences, there were still some other parts of the book that I found myself in, in terms of queer Asian identity.
Representation: Vietnamese gay MC, Vietnamese characters, Black character
Content warnings: homophobia, death (including death of family member), cannibalism
I don't normally read non-fiction, but I'm making it a goal to read more because clearly I am missing out. This poignant memoir from Chanel Miller, previously known only as Jane Doe when her victim statement went viral in the case regarding her rape, touched me in ways I don't think I can even try to describe. I read Know My Name via audiobook, and I really recommend doing so if you can, because the experience of hearing Miller herself narrate is even more impactful.
This was well-written to another level; there were so many instances where I had to pause and rewind just to hear her repeat certain words and phrases and let them sink into me. It is a very emotional book, telling what happened one terrible night and everything that followed, and victimhood, rape culture, trauma, survival, and healing comes into sharp focus throughout. But it is one that is incredibly empowering and holds so much importance, especially with the conversations we are having today.
You'll go into this book as one person and emerge feeling completely changed. If this is a story you can handle, I highly recommend reading it.
Content warnings: rape, sexual assault, medical examinations, depictions of trauma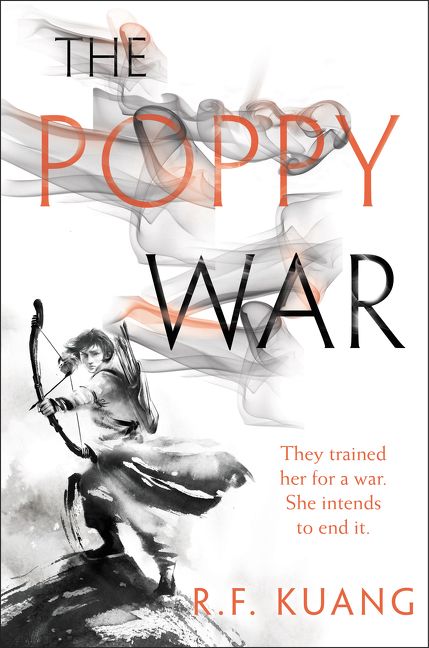 Who is surprised? I don't think a single person is.
This was, in a magical twist of fate, my first read of 2020, and also my best. I just finished reading it for a second time, and even knowing what happens—or perhaps because I know what happens—I'm in awe of what this book manages to do. This is a deeply tragic series, in my opinion, one that shows the terrible scars that war and trauma leave on people, and the way they irrevocably change lives and countries.
The Poppy War has landed itself in my list of all-time favorite books, and for good reason. I adore the character work in these books (I love the whole series, but this book the most), and Fang Runin is one of my favorite fictional characters ever. The way RF Kuang weaves in historical themes, ideologies, and events with these characters and this world is masterful, and her prose is true art with how easily it flows but still manges to hit you hard.
Honestly, just read my review of this book if you want me to see my gushing over it, because I can't keep everything to just a few paragraphs. But this novel and series does such an excellent job showing the journey of an poor dark-skinned girl to a terrifying force with godly power, and enriches a genre saturated with Western-centric stories. It truly is a gift to be able to read this and be alive at the same time as Kuang!
Representation: Asian-coded (mainly Chinese-) cast
Content warnings: war themes (death, murder, violence, etc.), genocide, drug use, substance addiction, suicide, self-harm, racism, colorism, misogyny, bullying, abandonment, abuse, animal death/cruelty, brutal & graphic torture, killing & rape, mutilation, human experimentation, ableism
---
what were your favorite books of the year? have you read any of mine? what were your thoughts on them? or are you planning to read any of these? (please do!!)