In my usual late fashion, today I'm wrapping up my reading year!
This is my one of my favorite posts to write every year. Sometimes I'm so caught up in wallowing over how there are so many books I'll never be able to read that I forget how much I actually do read. So I love looking back on the year and everything I read, the highs and the lows, the statistics and the graphs!! Like the nerd I unfortunately am, it makes me so excited for another year of reading.
I'm not sure who would be curious about all the books I read in 2020, but if you are, you can take a peek at them from my Goodreads reading challenge. All the book covers link to my reviews on Goodreads, though whether or not I actually wrote a full review for them, you'll have to click and see for yourself :p
BEST BOOKS
Read more of my thoughts on my favorite books (+ honorable mentions) in THIS POST!
WORST BOOKS
Read more of my thoughts on my least favorite books in THIS POST!
DISAPPOINTING BOOKS
Not counting any of the books above mentioned as my least favorites:
These were all books that I expected to enjoy and didn't. I thought I'd love Unravel the Dusk since I enjoyed the first book so much, and Akemi Dawn Bowman is an author I love a lot! 
These were books that I did like, but not as much as I was expecting to! The Midnight Lie honestly just… felt so meh to me and didn't at all live up to the hype I'd seen for it, while Lucky Caller didn't have the classic Emma Mills vibes that I love in her books. And while This Is How You Lose the Time War has some of the most beautiful prose that I've read, I was unfortunately just too stupid to understand what was going on!!
SURPRISING BOOKS

I expected to enjoy but not truly adore these books, but I ended up loving all of them! Several even made it as some of my favorite books of the year (or rather, honorable mentions).  
FAVORITE BOOK COVERS
Billelis – Kuri Huang – Sasha Vinogradova – David Curtis
HIDDEN GEMS
All of these books have less than 5k ratings on Goodreads (going from least amount of ratings to most), and I enjoyed them all so much, especially The Magic Fish, Raybearer, and The Bone Shard Daughter!
RANDOM BOOKS I WANTED
TO TALK ABOUT
So sorry for the chaotic heading for this, but I truly didn't know what to title it! None of these fit in any other section, but I wanted to talk about them anyway.
#1 PRIORITY BOOKS FOR 2021
Not including the 12 (or so) books on my TBR of friend-recommended books:
FAVORITE POSTS I WROTE
I loved writing all of these posts so much, and many of them were a labor of love! I wanted to especially highlight my Notion post, because I think someone pinned my pages on Pinterest and it "blew up" there (I have no idea how Pinterest works). It's gotten several thousand views and a ridiculous amount of daily views, and I don't know! It's so wild but very cool to have a post blow up like that!!
FAVORITE BOOK PHOTOS
I've kind of dropped off of bookstagram—I just don't feel inspired/motivated to take photos anymore, nor do I have the time or ability to (my special sunlit bedroom lighting is gone during these colder months). But I had a lot of fun during the months I was active, and I liked how so many of my photos turned out! Here are two of my favorites: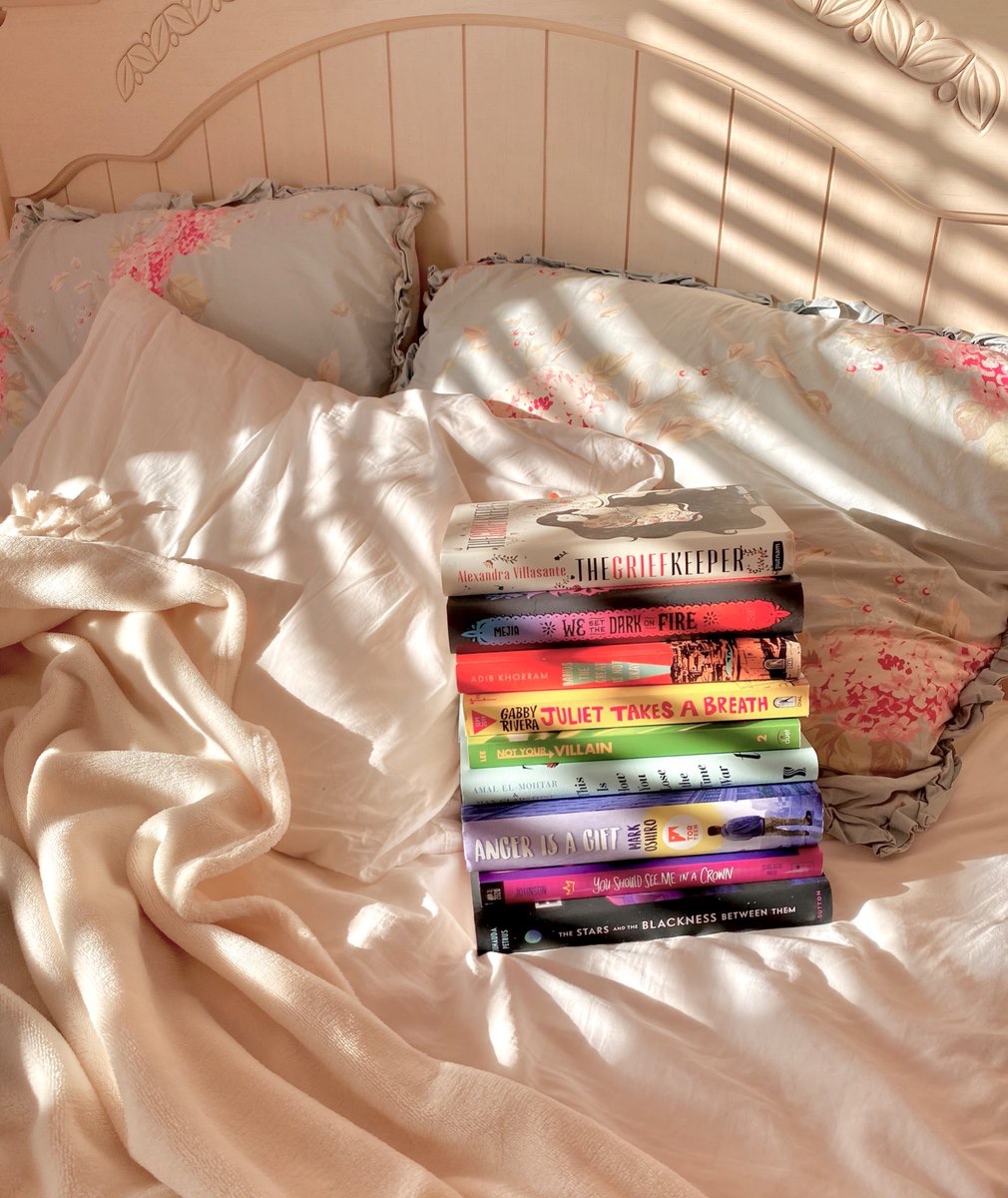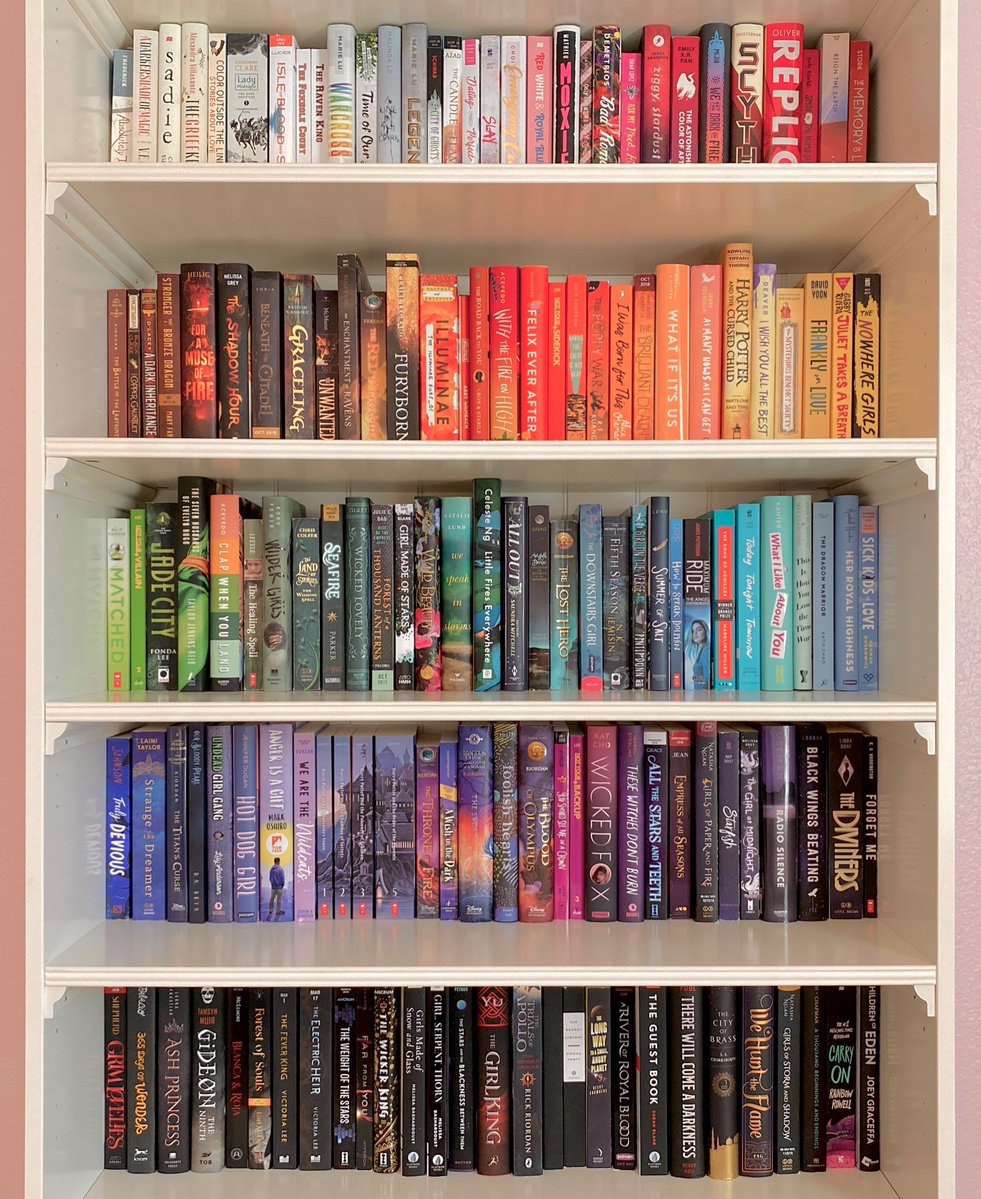 STATISTICS & GRAPHS
QUICK STATS
Number of books read: 100
Number of rereads: 13 (-5 from 2019)
Average rating: 3.48 (-0.34 from 2019)
Average rating without rereads: 3.35 (-0.32 from 2019)
I rated two books 5 stars this year, because I am MEAN!! I only rated one book 1 star, though, so I mean… I think that's pretty nice of me… Anyway, I've learned that I use the 3.5 star rating WAY too much!
And I'm surprised that 1) the amount of novels I read isn't higher, and 2) the amount of webcomics I read is so LOW! One of my 2021 goals is to read more diverse types of books, especially since there's no way I can read 100 novels during this busy year, so I'm excited to see what this graph will look like for 2021.
I think 2020 really cemented my love for fantasy, because usually the amount of fantasy and contemporary books I read are pretty close! YA is unsurprisingly is my most read age group, though I also read a surprising amount of MG (but half of those are Rick Riordan rereads so…).
(The N/A for age groups was for whatever books I didn't know the target audiences of.)
As a result of the pandemic, I used Overdrive/Libby from my library a LOT this year. I don't think it's really affected my reading too much? (But I sorely miss going to the library!!) And though it doesn't seem like much, 14 audiobooks is the most audiobooks I've ever read in a year, and I'm officially a converted audiobook lover!
(If you're wondering how I can read both physically and digitally, I just had a physical copy of the book and was reading along with the audiobook.)
I'm surprised that barely over half of the books I read this year were published by the Big 5! I thought it would be in the 70% range, honestly. I'm also surprised that 2020 releases didn't dominate my reading, though I definitely want to still keep reading backlist titles!
First things first, "free download" means things like Scribd (when they had a few months free in the beginning of the year), webcomics, online short stories, etc. and not like… illegal activity… But it's for some reason very funny to me that I read more from those free downloads than from my literal library! As always, though, I'm very blessed with and thankful for a lot of opportunities and privileges to be able to read a lot of books without spending any money.
(I also have very kind friends who buy books for me, clearly! Though half of the "gifted" books were just rereads of favorites that were given to me for my birthday or Christmas in years past.)
And finally, some author information!! I lacked trans authors on my reading list (all the trans authors I read are listed under non-binary, since I didn't read any binary trans authors), so hopefully I can get around to picking up more books from them this year. Of course, there are always trans authors who aren't out, so I can't and don't expect my information to be completely correct!
As for the race breakdown, at first, I was like, "Wow, that is a lot more white authors than I expected." And it's true: these aren't numbers I'm the happiest about, and my goal in 2021 is for at least 75% of the books I read to be by authors of color. But this is a SIGNIFICANT improvement from 2019, so I'm glad for that achievement at least. But no matter what, I'll continue push myself to be more conscious of who I'm reading from this year! (I also should… stop rereading so many books by white authors… especially Rick Riordan…)
---
how many books did you read in 2020? what was your most read genre/age group? what were your disappointments? any books you absolutely have to read this year??