I've officially cried over my first book of the year!
If you've been following me for a while, you'll know that one of my favorite books is Picture Us in the Light by Kelly Loy Gilbert. I was highly anticipating her next book and completely prepared to cry because of her words yet again—and that's exactly what happened!
Today, I'm very excited to review When We Were Infinite, and hopefully persuade you to read it and experience its beauty for yourself, or at the very least add it to your TBRS. I don't remember the last time I've ever felt so hollow after reading a book, and if it was able to make my cold dead heart feel something, you know it was amazing.  
Kelly Loy Gilbert  ||  March 8, 2021
★★★★☆ [4.5]
From award-winning author Kelly Loy Gilbert comes a powerful, achingly romantic drama about the secrets we keep, from each other and from ourselves, perfect for fans of Permanent Record and I Am Not Your Perfect Mexican Daughter.
All Beth wants is for her tight-knit circle of friends — Grace Nakamura, Brandon Lin, Sunny Chen, and Jason Tsou — to stay together. With her family splintered and her future a question mark, these friends are all she has — even if she sometimes wonders if she truly fits in with them. Besides, she's certain she'll never be able to tell Jason how she really feels about him, so friendship will have to be enough.
Then Beth witnesses a private act of violence in Jason's home, and the whole group is shaken. Beth and her friends make a pact to do whatever it takes to protect Jason, no matter the sacrifice. But when even their fierce loyalty isn't enough to stop Jason from making a life-altering choice, Beth must decide how far she's willing to go for him—and how much of herself she's willing to give up.
Amazon – B&N – Book Depository – IndieBound – Bookshop
Thank you to Simon & Schuster for sending me a copy of this book in exchange for a spot on this blog tour and an honest review. This did not affect my opinion in any way.
All quotes are from an advance copy and may differ in final publication.

ABOUT THE AUTHOR
Kelly Loy Gilbert believes deeply in the power of stories to illuminate a shared humanity and give voice to a complex, broken people. She is the author of Conviction, a William C. Morris Award finalist, and Picture Us in the Light, and lives in the SF Bay Area. She would be thrilled to hear from you on Twitter @KellyLoyGilbert or at KellyLoyGilbert.com.

Upon turning the last page of this book, I sat for a moment, still, empty. It felt simultaneously like I was breathless from the raw beauty threaded in every word of this book, and hollowed out from something nameless under my skin being dug out of me. Kelly Loy Gilbert has a way with words that draws out this entirely messy response from you, a tangle of emotions both good and bad, and there is no feeling more unique than what she pulls out of you. This book brought me to tears, and several times I could not even put a name to the reason I was crying. Her words touched something in me, brought comfort to it, while almost tearing at me at the same time. 
When We Were Infinite tells the story of Beth, a girl who, at the end of it all, simply wants to be with her friends as long as possible and support them in whatever way she can. She has also harbored feelings for one of them, Jason, ever since they became friends. But things soon get complicated, amidst college looming in their near futures, the sudden discovery of Jason's violent home life, friend and family conflicts, and mental health challenges. It is a story about relationships, people, and identity, all rendered in achingly gorgeous prose and delivered without holding back.
[…] I understood how there are parts of yourself—segments you can measure by time or by depth, by how long or how strongly they were a part of you—that you can't take back once you've offered them to someone who's made it so clear he never wanted them.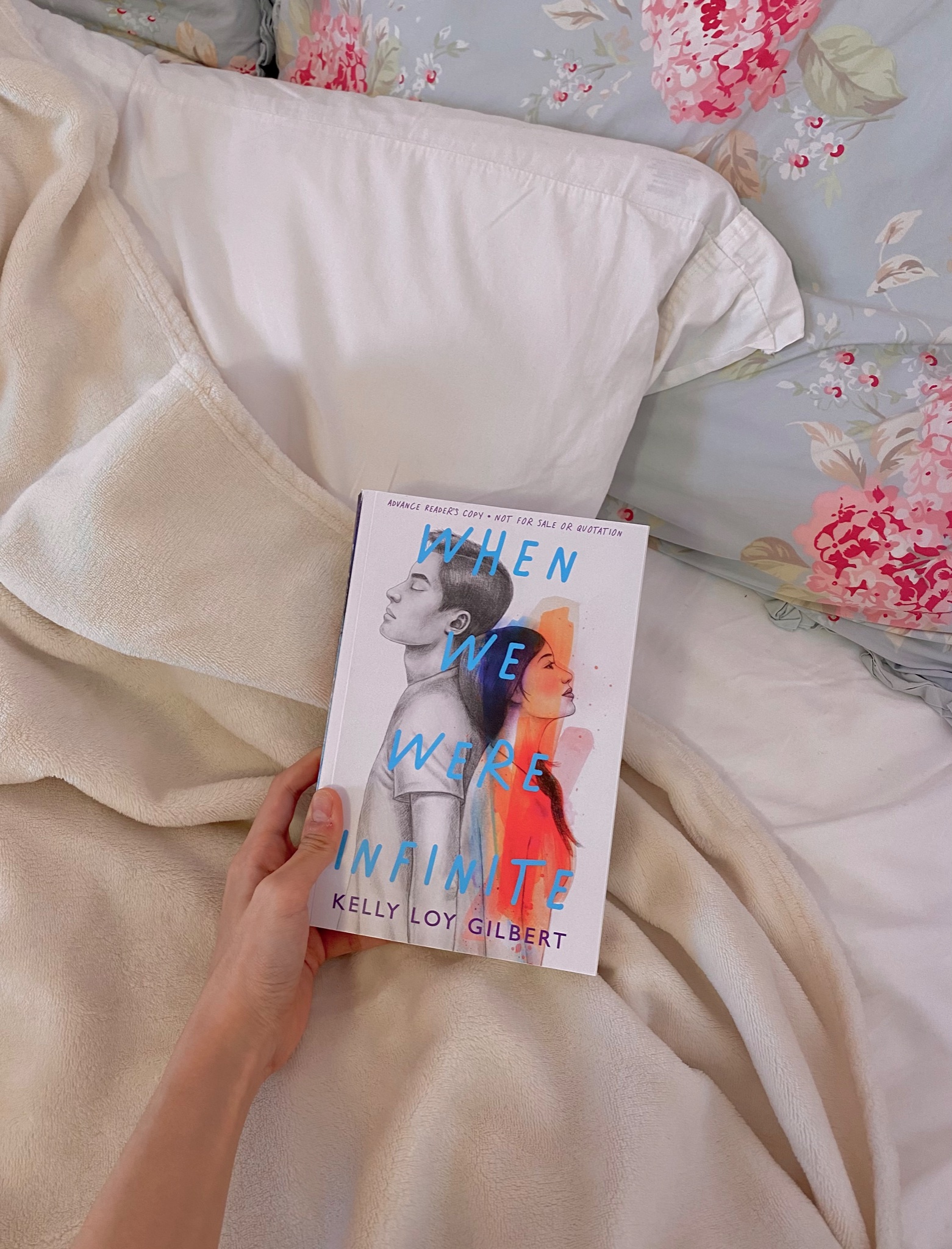 Gilbert has cemented herself as one of my favorite writers with this book. Her work is genius, her sense of character brilliant, and her prose simple and mesmerizing and affecting. Her writing isn't fancy, flowery language, but still rings with beauty all the same. This book is heavy, almost a sinking weight in your stomach when you read, but she writes almost delicately, a strange contradiction because the impact her words have on you is anything but.
Beth was a fantastic protagonist, but I'll be up front that I don't think this will be a book for everyone, especially with Beth as the main character. I myself thought Beth was a bit whiny at times, or found myself irritated at her thoughts or actions. But I think that those who can take the time to sink into the story, to be patient and let the book unravel in the way that it's meant to, will find themselves rewarded.
Beth's mindset will hit home with a lot of people—her belief that she has to be as selfless as possible to make people love her and to encourage them to stay, to the point that her selflessness becomes self-destruction. Before her friends, she was lonely and sad, but finding them was returning to a home she never knew existed. I think we all can relate to the feeling of finding people we just fit with, who make us feel safe and loved, and it is this relatability that makes reading her story so uncomfortable. We recognize how unhealthy her thought processes are, helpless to do anything but watch her spiral, and it truly just hurts to see her base so much of herself and her self-worth and her life on other people.
I understood how fragile happiness could be. Or maybe it wasn't happiness at all, but relief. It's easy to mistake them when that's all you have.
I actually didn't care for the romance between Beth and Jason as much as I wanted to, but it, at the same time, somehow managed to deeply affect me. I didn't see much chemistry between them (which, you could argue, was the point), I wanted more development in the beginning, and I didn't think Jason was as fleshed out as he could have been, especially compared to the other friends in the group. But being in a relationship—whether romantic, platonic, or familial—with someone going through mental health issues and not wanting to communicate with you is a difficult position to be in. How Gilbert approached it resonated with me, enough to the point that made it hard for me to read at several times, and I thought it was portrayed with the utmost care and respect.
I will say that while I might not have fully loved Beth and Jason's romance, I adored the ending of the book so, so much. And maybe, again, that's the point of how it was written: an imperfect relationship with roots you can still recognize as worthy of growing. (I'm trying to stay as vague here as possible!) Gilbert's endings always hit me so hard, and this one is filled with so much light and hope in the midst of the mundane loneliness of life.
I was fully in love with the relationships that Beth had formed with her friends, though. While still focusing greatly on Beth and her individual growth, this book examines friendships closely, especially in the face of horrific events such as abuse. Brandon, Sunny, Grace—all of them had distinct personalities and voices, and I loved Beth's relationship with each one of them. It's heartbreaking to watch them all struggle to deal with Jason's abusive family on their own, because in the end, the system fails them and no one has the right resources to help, and they are simply just kids trying their best.
I don't think I realized before then how my violin let me make a home for myself, how it let me belong in places I never would have otherwise—how I could lose myself in the music and try to find myself again and how, eventually, I always did.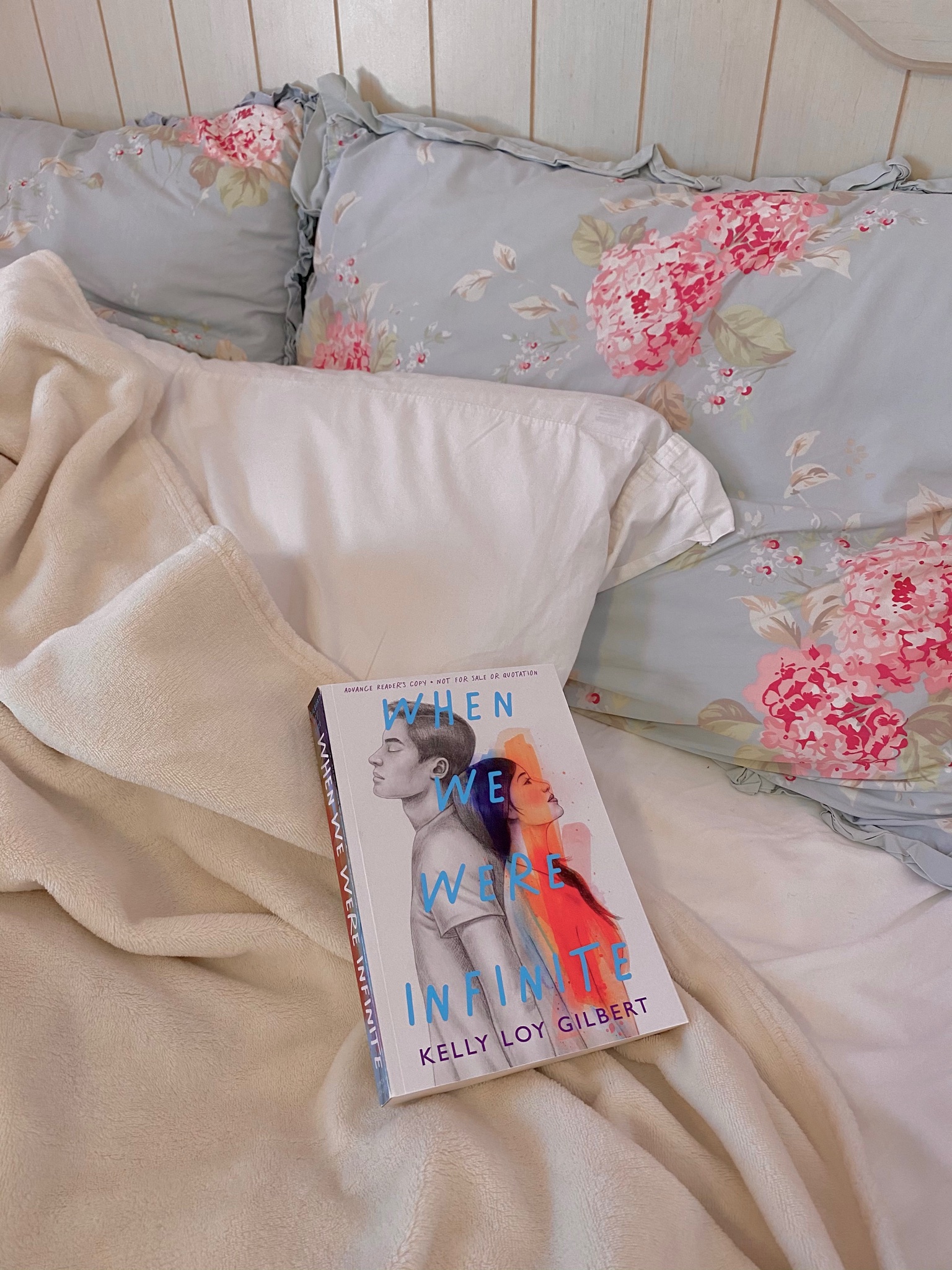 Gilbert writes Asian American representation that is so explicitly Asian American, even though the parts that touched me the most felt almost like whispers, erring more on a quieter side that almost hurts. The relationship Beth has with her white father who left their family is a large influence on her, practically what defines her view toward other people. But what resonated with me the most was the dynamic between her and her Chinese American mom. There's something about a mother and her child in Asian American families that's so lovely and heavy at the same time, and Gilbert constantly captures this strange, incongruous dynamic like a shattered moment in time.
I also appreciated the inclusion of art in this story, specifically music, and its importance to Beth. Art is a very big part of my life, as a writer and a dancer and a pianist. While I may not hold piano as dearly to me as Beth holds violin, the recognition of music or art in general as a way to lose and discover yourself all at once was so beautifully written, especially as a part of her arc. There seems to be a theme of college, art, and Asian American identity in Gilbert's books, and I can't express how personally meaningful it is to see it never veer into the typical "I'm not allowed to pursue the arts because I'm Asian" route.
Sometimes you can believe in the heart of another person. And sometimes, I think, you can also believe in your own—that it's stronger than you realized, that it can hold multiple things at once, like anxiety and also hope, the future and also the past. It can hold space for another person without forfeiting itself.
As difficult as this book can be to read at times, almost making you need to stop and catch a breath that you didn't realize was stolen from you, the ending of it is resounding in its hope. Gilbert never shies away from the sadder parts of life, but she spotlights the happier as well. You are hit with the sense of realness that her books always embody, and this realness is what makes them so painful yet impactful—because you know that what she writes is a reflection of actual life.
I don't think any review I attempt to write could do this book justice, not with all it encompasses and all the themes it manages to excel at executing and all the unnamable ways it touched me. But I hope I've at least been able to convince you to pick this book up and let it hollow you out as it did to me. If you're looking for a story that touches on mental health and Asian American dynamics, that is at its core about identity and the relationships we build with other people, that will wring you out and hold you close in the same breath, this is for you.
:: representation :: biracial (Chinese, white) MC, Taiwanese American LI, Taiwanese American wlw character, Taiwanese American character, Japanese American character
:: content warnings :: suicide attempt, suicidal ideation, parental abuse (physical), panic attacks, racism, homophobia 

TOUR SCHEDULE
Monday, March 1 – Bookish Ends
Tuesday, March 2 – From the Library of Alexis
Wednesday, March 2 – The Book Bratz
Thursday, March 4 – Between the Shelves
Friday, March 5 – eleven thirteen pm
Monday, March 8 – Fangirl Fury
Tuesday, March 9 – Vicky Again
Wednesday, March 10 – Forever and Everly
Thursday, March 11 – Drizzle and Hurricane Books
Friday, March 12 – Starlight Strands
---
have you read any of Kelly Loy Gilbert's books? are you planning on picking up When We Were Infinite? what are books that you've finished and felt completely hollowed out by? any favorite contemporary writers?