Hello… I'm back! For real!
Sorry if my last post gave you a scare (though I think I actually fooled myself into feeling more motivated to do more blogging things again). I personally think it was a fun way to start off April, which I'm hoping will be a good month! :D
Today I'm here to recap the month and update you all on how things have been for me, since it's been a while! Overall, March was a bit of a rough month for me, but not too terrible. It honestly was just the first half that was miserable, because of school, but later I found some comfort in books and writing.
I read 8 books! The most read in a month so far this year for me (by 1, but shh). Surprisingly, I read 7/8 of them in the last half of the month because of school making me super busy—but I'm glad that I seem to be finding my way back out of a reading slump?
While there were some books I read that I didn't love as much as I wanted to, I found a 5-star book and a new favorite of the year! Also, I think this month really shows how I'm trying to diversify my reading with different genres, which I'm really happy about.
BOOK HAUL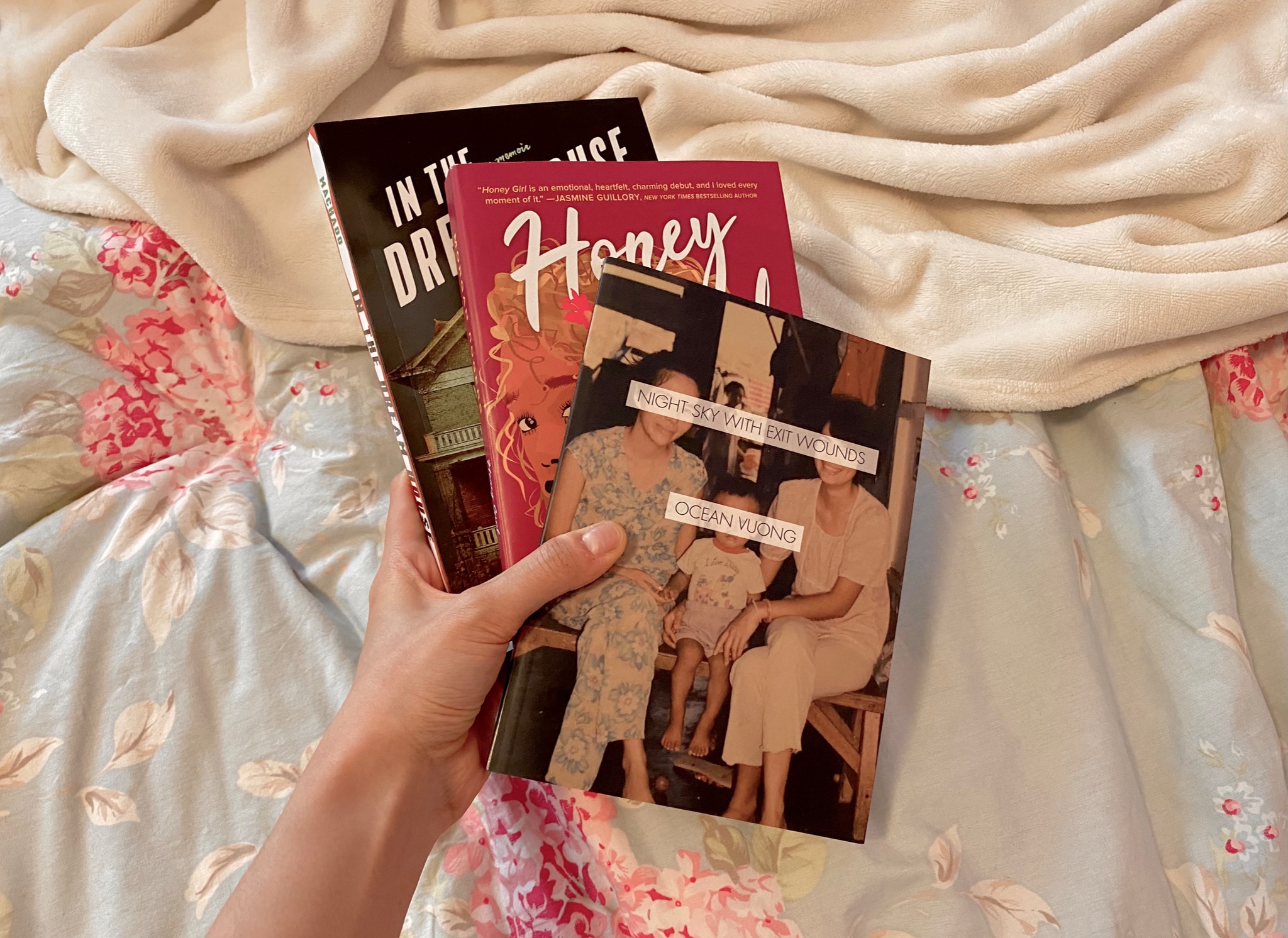 I got to visit B&N during my spring break and bought some books, which gave me lots of serotonin!! I bought In the Dream House and Night Sky with Exit Wounds (which, as I just wrote, I read this month), and I also got Honey Girl. I was very excited to get these because I had a feeling that they would be phenomenal (and so far I'm 2/3 right!).
UPDATES
I made a hiatus announcement post as an April Fool's joke (and I actually succeeded at fooling people, which I was surprised but very pleased by!), and strangely… it was that post that made me find motivation/inspiration to blog again? Maybe it was because I was pretending I wouldn't blog in a while that reinvigorated something in me, or maybe it was just because I took two months off from posting, but I'm FINALLY excited to create more content again!
Also, if you'd like to contribute to one of my upcoming blog posts (personalized book recs!), feel free to fill this out!! <33
THIS MONTH'S POSTS
I wrote a piece! And not to be immodest or anything but I think it's actually kind of really good!! I shared it with friends and they all adored it, which gave me a MAJOR confidence boost. I think it's definitely one of the best things I've ever written, and I'm kind of in awe that I managed to pull it off, especially with minimal planning and the accidental use of some harder devices (second person, dual timelines). I didn't write a lot but you know what, I'm taking a win where I can, and I think this was definitely a win for me!!!
I don't think any snippet I pull from it would have as big of an impact without the rest of the piece, but here's a small part!
It was another exhausting month, school-wise. I'm just so over this school year and I can't wait for it to be done. I'm thankfully in my last quarter now, but god… any time I think about school I just get so worn out and upset and stressed, so I'll just say that it's the absolute worst to have had to do an entire school year online at home with no proper support during a pandemic.
But I'm doing okay-ish, in terms of mental health!! Spring break rejuvenated me, even though it was immediately reversed by going back to school. We're in the home stretch though, now, so I'm hanging on as best I can! I also got a great SAT score, which lessened a lot of stress for me <3
Media-wise, since all I've been able to do recently is drown myself in media consumption, I watched Sk8 the Infinity and Horimiya—Sk8 is so much fun. I've been listening to a lot of Mother Mother lately, and if anyone has some music recs I'd gladly take them!! (I'm mainly into indie/alt rock at the moment.)
read 8 books

✓

finish my novella WIP

✗

start developing a novel idea

✗

get >7.5 hours of sleep

✗

college prep

✓

continue drinking lots of water

✓

learn Thai tone rules!

✗
read 8 books
start developing a novel idea
get >7.5 hours of sleep
college prep
driver's ed
learn Thai tone rules!
get back into playing piano
There's nothing major happening this month that I can think of? Just SECOND TO LAST MONTH OF SCHOOL!!! I am very excited!!!!
(I really wanted to do Camp NaNoWriMo but I have no novel to do it with and no time, so unfortunately not this year!)
---
how was your month? did you read any good books? any music recs for me? how's school going for you, for all the students out there? are you doing Camp NaNo?