I'm not usually a big romance obsessor, but this one really nailed it.
Slowburn, enemies to lovers, AND f/f?? Nina Varela really said "May rights" and "gay rights" with this one, because I love all of those romance tropes and she executed them perfectly in her debut.
If it isn't already clear, I absolutely adored Crier's War, and today I'm hopefully going to convince you to pick it up! (If not for everything I mention in my review, then certainly for this actual sent-from-heaven book cover.)
Thank you so much to Karina @ Afire Pages for allowing me to be a part of the blog tour for this amazing book! I'm a day late in posting this, and I'm so extremely sorry.
Nina Varela  ||  October 1, 2019
★★★★☆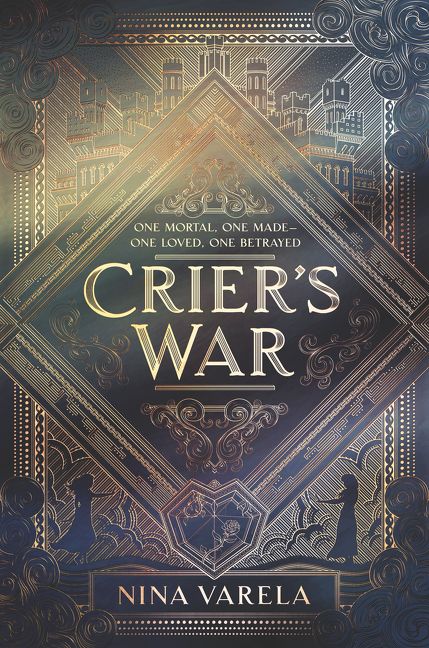 From debut author Nina Varela comes the first book in an Own Voices, richly imagined epic fantasy about an impossible love between two girls—one human, one Made—whose romance could be the beginning of a revolution.
Perfect for fans of Marie Rutkoski's The Winner's Curse as well as Game of Thrones and Westworld.
After the War of Kinds ravaged the kingdom of Rabu, the Automae, designed to be the playthings of royals, usurped their owners' estates and bent the human race to their will.Now Ayla, a human servant rising in the ranks at the House of the Sovereign, dreams of avenging her family's death…by killing the sovereign's daughter, Lady Crier.
Crier was Made to be beautiful, flawless, and to carry on her father's legacy. But that was before her betrothal to the enigmatic Scyre Kinok, before she discovered her father isn't the benevolent king she once admired, and most importantly, before she met Ayla.
Now, with growing human unrest across the land, pressures from a foreign queen, and an evil new leader on the rise, Crier and Ayla find there may be only one path to love: war.
Thank you to the blog tour host, HarperCollins, and the author for sending me a copy of this book in exchange for a spot on this blog tour! This did not affect my opinions in any way. All quotes are from an advance copy and may differ in final publication.
ABOUT THE AUTHOR
Nina Varela is a nationally awarded writer of screenplays and short fiction. She was born in New Orleans and raised on a hippie commune in Durham, North Carolina, where she spent most of her childhood playing in the Eno River, building faerie houses from moss and bark, and running barefoot through the woods. These days, Nina lives in Los Angeles with her writing partner and their tiny, ill-behaved dog. She tends to write stories about hard-won love and young people toppling the
monarchy/patriarchy/whatever-archy. On a related note, she's queer. On a less related note, she has strong feelings about hushpuppies and loves a good jambalaya. CRIER'S WAR is her first novel.
You can find Nina at any given coffee shop in the greater Los Angeles area, or at http://www.ninavarela.com
In a world where alchemy-based android-like Automae have overthrowed their human Makers and now rule over humans, the paths of two girls, Crier and Ayla, intertwine, ultimately changing the entire course of their political landscape.
Crier, an Automa the sovereign's daughter, was Made to be the epitome of perfection, but her entire life changes when she takes on a new human handmaiden, Ayla. There has only been one thing that has kept Ayla going: revenge. And she's going to get it by killing Crier.
There are genuinely so many enthralling things about this book that I could talk about, from the complexities of the characters, to the elaborate writing, to the intricate fantasy world to the themes and messages to the romance that had me dying. Because though this is her debut, it's clear that Varela is an expert writer who knows her craft well.
  Justice was a god, and Ayla didn't believe in such childish things. She believed in blood.
Crier and Ayla are both strong, compelling main characters, and I thoroughly enjoyed reading from each of their point of views. Both of their arcs were well-written, and their clashing personalities made for an interesting dynamic. I truly have no idea which I am more drawn to; I loved them both! While I do wish there had been more about the various side characters, Crier and Ayla were enough to make up for the lack of that.
Crier is written as the sweeter, more innocent character, and she kind of has the IQ of like 3 (despite having been Made to be intellectual) but it's okay. She won't stand for anyone's BS, especially being treated the way she has as a woman, and aches to be actually listened to for once.
Ayla, on the other hand, is much pricklier and more standoffish as a result of her refusal to grow close to anyone after her family died. Her grief and rage has been her number one motivator throughout her life, and I loved watching her slowly become more than that and realize she's not weak to let people in.
I can't talk about these two without mentioning their romance, because oh my god. When I say slowburn, I'm talking about this book. Varela was masterful in the way she wrote the romance as starting off as a slight curiosity of and infatuation with each other, and becoming angsty longing as tension built and finally broke. The enemies to lovers trope was also artfully executed; Ayla having wanted to kill Crier for years and that want transforming throughout the story as she feels differently about Crier adds a whole other layer to the romance.
  A drop of water gleamed on Ayla's lower lip. Strangely, it made Crier want to—drink.
Varela's writing and prose itself are also worth commending, because it was beautiful! I tend not to be the biggest fan of physical descriptions of things such as settings and appearances, etc., so while I didn't appreciate those as much, I adored how detailed and captivatingly written the emotions and thoughts of Crier and Ayla were! (Especially when it came to their emotions and thoughts about each other.)
What made this book even more golden was the way it tackled certain themes and issues, and all so subtly. I'm an absolute slut for anything that talks about humanity and what it means to be human in literature, and that discussion was so GOOD in this book. But beyond that, I loved how it connected to modern issues in our own world—stealing and appropriating cultures, men displaying women's work as their own, oppression and privilege, and more—and how they were woven into the story seamlessly.
However, worldbuilding is not something that usually stands out to me, and it's no different for this book. I felt like there were too many info-dumps in the beginning, and it made it harder for me to be engaged right from the start. However, as the plot started to pick up and I became more engrossed, the tidbits of history that I found to be too much at first slowly became more intriguing.
(But points for the normalization of non-heterosexual people and their relationships! AND points for not confusing me like most fantasy worldbuilding does!!)
  "Humanity is how you act, my lady […] Not how you were Made."
I truly think this book is a masterpiece, albeit a few very minor problems (info-dumps and lack of focus on side characters). The plot twists are shocking yet well-written, the villain is so sinister yet intriguing, and the ending leaves you aching for more yet also satisfies you just enough.
While I personally didn't connect with the book enough to give it 5 stars, I still adored it, especially Crier, Ayla, and their relationship! Anyone looking for a well-rounded fantasy, especially one with more political mystery and a slowburn enemies to lovers romance, should pick this up. This is a more-than-solid, beautifully told story, and I'm eagerly awaiting the magical surprises Varela will cook up next.
:: rep :: POC lesbian MC, POC bisexual MC
:: content warnings :: death/murder (of close ones), violence, depictions of blood, use of drug-like substance
GIVEAWAY
Enter the giveaway to win a copy of Crier's War! Open internationally, closes October 23. Click here if the image below doesn't work.
TOUR SCHEDULE
click to view

WEEK 1

WEEK 2
---
are you excited for Crier's War? do you have any slowburn and/or enemies to lovers and/or f/f fantasy recommendations?? and isn't the actual most stunning book cover?